New Products Shown in '23
DAY 2: FORUM8 showcases VR Design Studio UC-win/Road Software System
FORUM8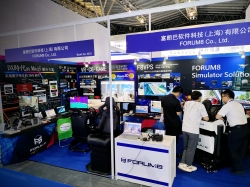 At this year's expo, FORUM8 is showcasing its VR Design Studio UC-win/Road Software System. VR Design Studio UC-win/Road is an Interactive 3D Real-Time Virtual Reality Simulation Software with high flexibility and versatility that can also provide customized development services. It supports rapid construction of complex road scenarios, landscape, traffic flow, lighting, weather, and vehicle dynamics simulation. It is a design platform software suitable for autonomous driving algorithm verification, ADAS sensor simulation, and ITS research. VR Design Studio UC-win/Road can customize VR systems and simulation in response to customers' needs, such as the "Automatic Steering VR Simulator with Torque Control", an autonomous driving simulator with force-feedback steering wheel; 3 Degree Of Freedom VR Motion Seat linked with Head-Mounted Display; Brain Wave Driving simulator for hands-free driving via UC-win/Road Brain Wave plug-in through the monitoring of brainwave activity; pedestrian simulator; bicycle simulator; etc.

Lineup of FORUM8 Driving Simulator Systems, UC-win/Road Driving Simulator:FORUM8 provides complete professional driving simulation system solutions through the company's expertise and extensive experience. FORUM8 offers driving simulator systems in various scales for the fields of road design, intelligent transportation, road safety assessment, driver evaluation and training, autonomous driving, vehicle research and development, and so on.

FORUM8's company profile
FORUM8, headquartered in Tokyo Japan, established FORUM8 Technology Development (Shanghai) Co., Ltd. in November 2009.
Since its establishment, the company has provided software and technical services in support of civil engineering and architectural design based on software package development technology, with the design of structures as its core business. In recent years, with the development of virtual reality, the scope of application has been extended to a wider range of project areas, including transportation and automotive research and development.

The foundation of our growth lies in the development of original all-purpose software. UC-win/Road, a real-time virtual reality software, was developed in 2000, and since its initial release, we have continued to develop and improve numerous functions of the software including 3D environment modeling, driving simulation, and presentation functions.

The development of these new products and technologies has been highly evaluated by the customers worldwide, and FORUM8 has been awarded by the Ministry of Economy, Trade and Industry of Japan to take on the contracted project using FORUM8's original 3D VR and Cloud computing technology. The software-related technical services and the integration business centered on the software itself have been growing, led by the driving simulator system and other businesses, and FORUM8 has successfully won the international tender to build and deliver a large-scale simulator for the Academy of Highway Sciences of the Ministry of Transportation and Communications of China. FORUM8 has also built and delivered high-end research driving simulators for Toyota, Kyushu University and Kyoto University.

Meet FORUM8 at booth 8033.