NEW PRODUCTS PRESENTED AT THE 2023 SHOW
EXPO REVIEW: Europe's leading vehicle test and development showcase delivers again in Stuttgart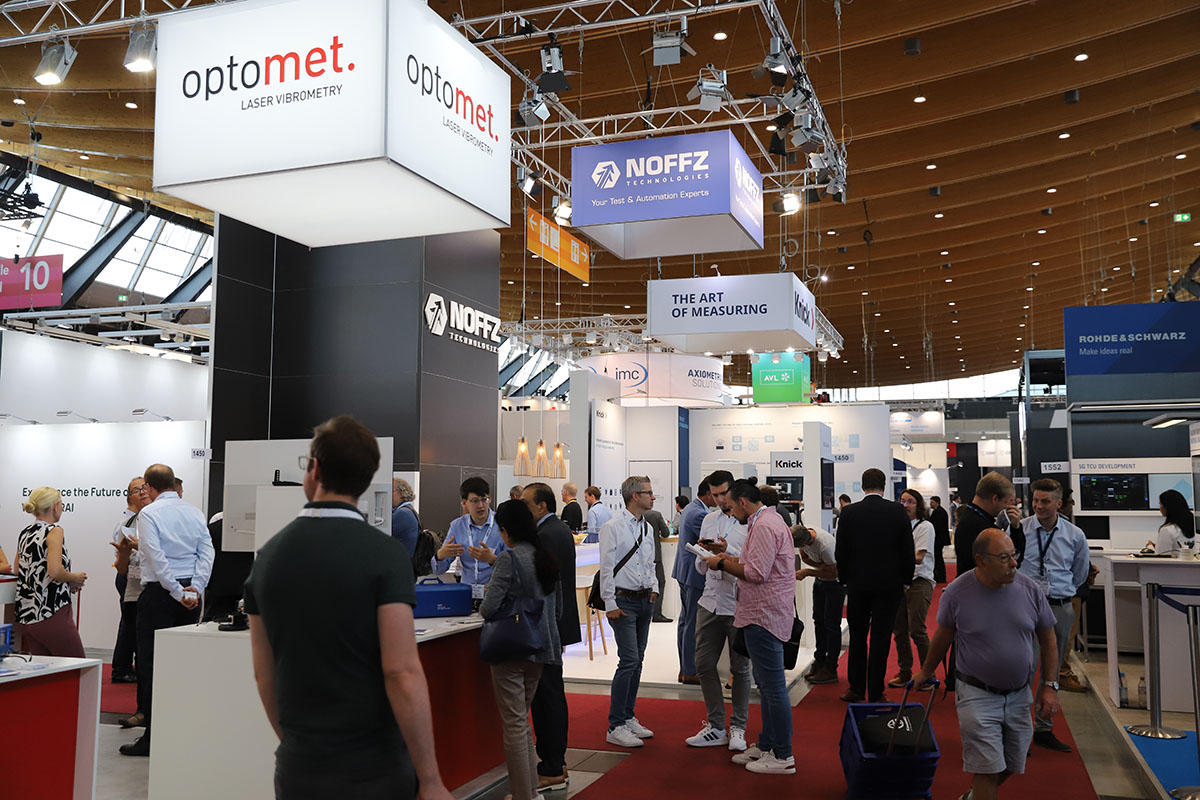 Automotive Testing Expo Europe 2023, which took place on June 13, 14 & 15 at the Messe Stuttgart in Germany, has been hailed a tremendous success. As the world's largest and greatest gathering of automotive test and development experts, this year's event – which saw the rapidly expanding ADAS & Autonomous Vehicle Technology Expo conveniently located next door in Hall 6 – welcomed more than 420 exhibitors and thousands of attendees over the full three days of the event. There were also two free-to-attend Technology Presentation Stages, plus the pay-to-attend ADAS & Autonomous Vehicle Technology Conference.
Automotive Testing Expo Europe 2023 saw the launch of a multitude of brand-new, cutting-edge test, evaluation and quality engineering technologies, as well as numerous exciting projects and investments announced live on the show floor.
These included MBBM-VAS's latest solution for 360° data acquisition, analysis and management, PAK live, which enables live data streaming across various data sources. Embedded software can be added to the measurement device or PC to create a perfectly tailored testing ecosystem and data management solution.
Dejan Arsic, key account manager, who introduced the solution on the Technology Presentation Stage, commented, "It addresses the current challenges in testing and provides even more efficiency in resource allocation, time and processes. Automotive Testing Expo is always a positive event for us."
Catesby Projects announced that it is in the process of getting its 2.7km underground test facility, the Catesby Tunnel, approved for WLTP coastdown testing. This capability will be a game-changer for Catesby as there are very few places in the UK that offer this service. Once approval has been received, it will be possible to carry out WLTP coastdown assessments 24/7 at the Catesby Tunnel thanks to its consistent conditions.
Jon Paton, group leader at Catesby Projects, said, "We've also purchased a new speed measurement system from Racelogic that is accurate to within 0.01km/h. More generally, we're continuing to understand the tunnel and how to get more and more repeatable results."
As Bieganek explained, the advent of EVs and AVs has created a need for more capable damper NVH solutions: "To study elusive structure-borne 'chuckle' noises that can compromise ride comfort and quality, the first-of-its kind Model 853 draws from both MTS damper and elastomer testing technologies.
"It employs high-bandwidth transducers – typically used in high-frequency elastomer testing – to perform damper NVH measurements with fidelity and accuracy up to 800Hz. It also features an elastomer system's high-stiffness load frame, along with larger diameter columns, a thicker crosshead and a more robust base to avoid the resonant modes that can corrupt measurements. Linear electromagnetic actuation technology provides the clean sinusoidal input and low total harmonic distortion the system requires for effective chuckle testing."
Building on its expertise in FPGA-based power electronics simulation, Opal-RT has developed a new generation of its electric Hardware Solver (eHS), which was showcased in Stuttgart. Generation five of the solution is said to push the boundaries of existing FPGA-based HIL simulation and is the fastest freely configurable solver on the market, according to Timo Rösch, director of sales and marketing.
Asked what the impetus was for Opal-RT to develop this solution, Rösch commented, "We were requested by Valeo to find a solution for very fast switching (~300kHz) OBC controllers, which has not been available on the market to date. It was not easy [to develop], but we have been able to apply concepts from other Opal-RT solutions for this solver, which helped speed up the development time."
"Valeo is an important, large Tier 1 supplier of onboard chargers. Due to the requirement for size reduction in the car and high-power charging systems, it decided to go for the latest power electronics technology – SiC – to make use of a very high switching frequency of over 300kHz," Rösch explained in more detail. "There was no commercially available control test platform to conduct controls tests (via HIL) in a proper way and fast – considering that the HIL system must be between 100-1,000 times faster than the DUT. As such we developed a capable HIL system based on Valeo's requirements."
According to DTS, one trend that it is continuing is the need for simplicity and efficiency in the test set-up process. At the expo this year, the company displayed its 3D-printed Hybrid III 5th ATD, known as Westworld, which enables people to see how DTS's Slice6 in-dummy DAS is integrated into the test device.
Bryan Todd, DTS lead integration engineer, said, "For anyone doing occupant safety and NCAP testing, our Slice6 in-dummy DAS solution is leading the way. As more labs move to Slice6 in-dummy DAS, we're noticing more awareness and having more conversations about the importance of temperature profiles. We also have a new real-time clock and highly accurate tilt sensor that allows our customers to monitor in-dummy positioning with continual temperature logging. DTS's goal is to make it as easy as possible for customers to get all the information they need."
According to Todd, Automotive Testing Expo is always a great draw, enabling the company to meet with customers and the DTS global sales partners all in one place.
The show also provided a platform for developers to discuss changes in attitudes and general working processes. In a talk on the Technology Presentation Stage, Onur Armac, cross functional regional solution field management – senior field application engineer at ETAS, and Laura Kürzel, vehicle cloud services – sales engineer at ETAS, discussed how the company's cloud-based computing is revolutionizing automotive development. Several trends have led to an increased uptake of cloud computing and digitalization in general over the past couple of years.
One field in which cloud computing is greatly affecting vehicle engineering is calibration and measurement. It facilitates experts in remotely accessing the vehicle PC and performing tasks such as measurement and flashing from the office. Additionally, several changes to hardware and software components can be conducted remotely for an entire vehicle fleet. This means drivers do not need special know-how.
Armac said, "There are still many question marks and bottlenecks hindering the entire cloudification of vehicle development. Nevertheless, in terms of application fields, the sky is the limit. From the automized management of test benches over the remote calibration to testing functions in a 'hidden' mode (also known as shadow mode) with vehicles in the field, nothing is impossible."
Visitor testimonials
"I am here to find products that are applicable to both automotive and motorsport, looking specifically for sensors such as pressure sensors. It's interesting and it's busy," Andrea Maselli, R&D electronics engineer, Hyundai Motorsport.
"I am here today seeking new ideas, remaining open-minded, to discover what's possible. In terms of testing solutions, the challenges [for us]are finding scalable, global solutions for all our factories and having one common language across all 50 plants. I like the look and the feel of the show, it's very inviting," Mattias Günther, manufacturing engineer, John Deere.
"I'm looking to see what we can do to improve our products, looking toward the future. I mostly focus on ADAS and autonomous driving, and in this case, the main challenges are related to sensors, perception and AI training. I'm a curious person as are my colleagues, so we explore as much as we can. We've seen many interesting companies and solutions," Guido Fusco, ADAS systems engineer, Iveco.
"I want to see the latest technology from suppliers and perhaps understand areas where we're not currently up to standard; it's about understanding the industry better. Key topics [for us]are connected vehicles, and the evaluation of them and management of data. Vehicles today have a lot of sensors, and in turn, there is a lot more data to manage, which is something we're particularly interested in. I have seen a lot of great technology and met helpful people who've explained it to me," Oliver King, Euro NCAP strategy and development management, Nissan Europe.
Exhibitor testimonials
"The show has been really beneficial. We have met some important people and made new contacts within companies that we were already doing business with. This has enabled us to find our way into additional departments to fill in the missing links. There are some very interesting suppliers here too, and it is great to see what else is available on the market. Being able to see the advances in ADAS technology has enabled us to understand what's going on in that space and where we need to develop our offerings to fit within the ever-changing [automotive]market," James Harbour, supervisor of product testing, Smithers.
"We are overwhelmed, it's been an excellent show. We have had several very interesting opportunities come through which we're excited about," Michael Caldwell, sales manager, Mustang Advanced Engineering.