Products on Show
High-power compact permanent magnet dyno
Borghi & Saveri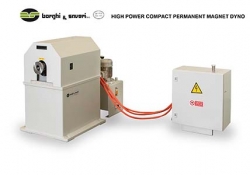 Make sure to visit Borghi & Saveri's booth, where representatives will present the company's FM280 permanent magnet dynamometer with a variable-frequency drive. Its applications range from simple stationary tests to dynamics tests.
---
High-performance removable data storage for efficient ADAS & AD validation
ViGEM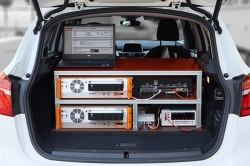 The robust CCA S10xxT high-performance removable data storage devices from ViGEM are specially designed for fast data transfer in the validation of innovative driver assistance systems (ADAS) and autonomous driving (AD).
---
CPD dummy, crash-proof guardrail soft target and extended load cell range for crash tests
Messring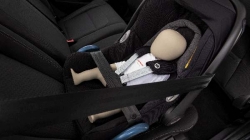 Messring has developed a new CPD dummy that replicates a newborn in shape and size and enables reliable and standardized verification of CPD systems. The innovative child dummy enables functional testing in the passenger cabin by replicating the presence and breathing motion of a sleeping newborn child.
---
Modular multi-channel data acquisition system for sound and vibration measurement
HEAD acoustics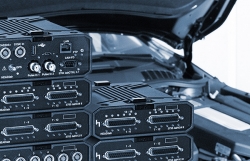 High performance, easy to configure and robust, the new generation of Head Acoustic's modular multi-channel data acquisition system, Headlab, stands out with smart functions, rugged measurement technology and a compact design.
---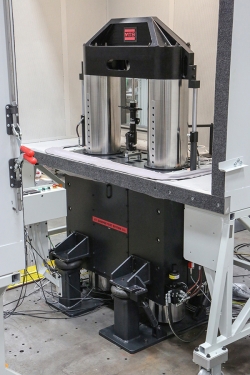 The new Model 853 NVH damper test system by MTS is engineered to address the entire range of damper noise phenomena, including swish, squeak and chuckle.
---
Test system for the magnetic properties of stators
Brockhaus Measurements
Brockhaus is a leading manufacturer of instrumentation devices and systems for the quality control and examination of soft and hard magnetic materials. In the automotive/EV sector in particular, verification of the used material is becoming increasingly important.
---
ECU simulation bench and automatic test benches
Cojali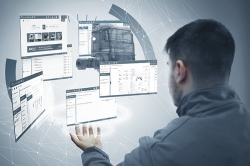 Stop by Cojali's booth to see how the company's OEM solutions enable the development of innovative, comprehensive, customer-centric software for vehicle and equipment manufacturers, backed by extensive industry knowledge and experience.
---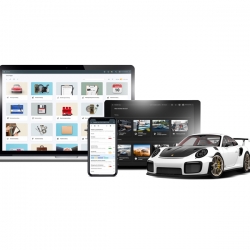 At this year's expo, Softwarehelden will launch and demonstrate its Assisted Testing cloud-based software solution for the digitalization of product testing. To help show context, representatives will model visitors' concrete use cases within the system, alongside all apps and possibilities.
---
Linear actuator for materials and products testing
Step Lab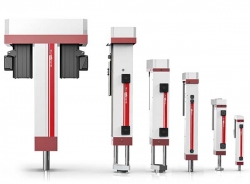 Step Lab's linear actuator is based on linear motors for tests on materials and products and is suitable for tests in force and position control.
---
Advanced sensor array for aerodynamic testing
Texys Group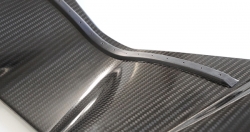 The Texense APASS (Absolute Pressure Aero Skin Sensor) is an advanced sensor array for aerodynamic testing applications. It is light, flexible and sits flush on complex aerodynamic surfaces due to its low-profile 3mm thickness.
---
One-stop testing service for green mobility
TÜV Süd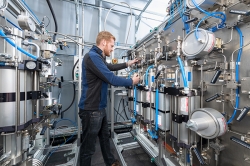 New-energy vehicles (NEV) are electric vehicles powered by batteries or H2 fuel cells, which help to reduce emissions. However, they also challenge component and product safety. Suppliers and manufacturers can benefit from TÜV Süd's holistic testing services.
---
Custom-designed high-speed coupling systems
Reich-Kupplungen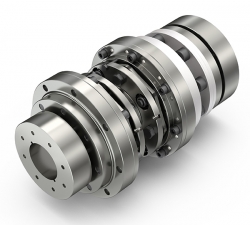 Following decades of experience satisfying the most demanding requirements in test bench engineering, Reich-Kupplungen's coupling systems are used in engine test benches, engine development and series testing, roller dynamometer test benches for vehicles, product development and emission tests, racing engine test benches, versatile high-end tests, and quick, efficient engine and vehicle optimization.
---
Sound transmission loss and absorption measurement
Bias Mühendislik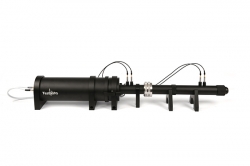 Bias specializes in providing advanced engineering solutions and custom test and measurement systems for homologations, fatigue durability, earthquake shaking tables, acoustical measurement and acoustical quality control systems
---
Effective kurtosis control in accelerated testing
Vibration Research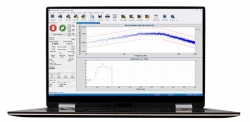 Vibration Research will discuss a real-world method of selecting a transition frequency and implementing effective kurtosis control with Kurtosion. It will be defined in relation to accelerated testing and the company will explain the proper use of the transition frequency, concluding with an experimental setup and test procedure.
---
C-HIL simulation for power electronics
Typhoon HIL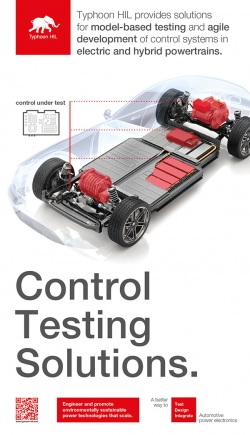 Typhoon HIL solutions are based on ultra-high-fidelity controller-hardware-in-the-loop (C-HIL) simulation for testing control for power electronics, microgrids, distribution networks and e-mobility applications.
---
Cybersecurity testing and certification program for ISO/SAE 21434
SGS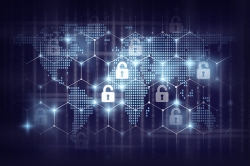 SGS offers a newly developed testing and certification program to ensure its clients' implemented development processes, components and vehicles meet the requirements of the new standard, ISO/SAE 21434, in accordance with ISO 26262 – Security for Safety (S4S).
---
ADAS/VIL dynamometer
Rototest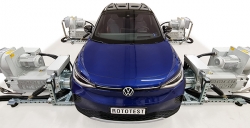 Rototest will demonstrate its advancements in ADAS/VIL dynamometer testing 'live' on an all-wheel-drive system.
---
Embedded solutions for next-gen ADAS development
Methodica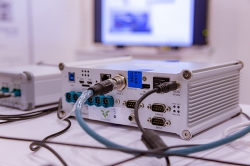 PeekaBoo is Methodica's latest contribution to data-driven development in ADAS. This a high-performance datalogger can efficiently collect, process and present unimpaired data from ADAS testing at ultra-high speed.
---
State-of-the-art aero-acoustic wind tunnel
MCE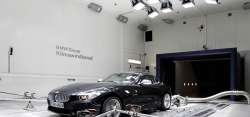 MCE has contributed its construction expertise to a state-of-the-art aero-acoustic wind tunnel (turnkey) at BMW Group's Research and Innovation Center (FIZ) in Munich.
---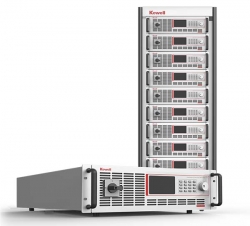 Kewell will showcase its C3000H-15K high-precision programmable DC source, a 3U-sized, high-power-density solution for PDU, motor, relay, DC-DC converter, fuse wire and automotive lighting testing.
---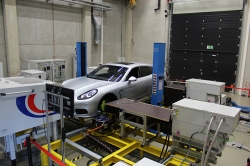 The Institute of Vehicle System Technology (FAST) of the Karlsruhe Institute of Technology (KIT) will present several test benches for the experimental analysis of vehicle and component characteristics in cars, trucks and mobile machines.
---
Dynamic temperature control system
Julabo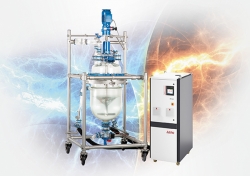 The new PRESTO W56 is Julabo's most powerful single-stage, highly dynamic temperature control system. The power pack offers a cooling capacity of 25.8kW at 20°C and, at 27kW, has the greatest heating capacity among the single-stage PRESTO series.
---
Test facility for electromagnetic characterization of electrical motors
Emitech Group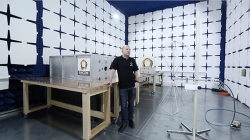 The Emitech Group is supporting the demand for testing of onboard electronics and power electronics testing in electric motors through investments including a state-of-the-art facility integrated into its automotive laboratory in Montigny Le Bretonneux, near Paris, France.
---
Dynamometer solutions to test traction motors
D&V Electronics
D&V Electronics offers unique dynamometer solutions to test traction motors either in standalone mode or as part of the powertrain or e-axle configurations. These solutions can be used for research and development and production testing environments.
---
PXI automated test systems
Datatec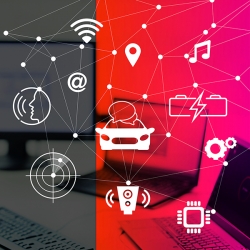 Representatives from Datatec will show automotive test solutions that conform to the PXI standard for test automation, originally pioneered by National Instruments (NI). PXI shortens characterization time and increases productivity for test engineers faced with increasingly tight schedules for the introduction of new product solutions.
---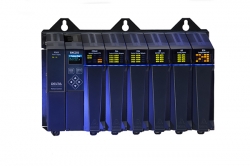 Delta's RMC Motion Controllers deliver high-performance, closed-loop control, supporting systems with up to 50 axes. The built-in 10/100 Ethernet ports provide connectivity to many PLCs and HMIs. The RMC200 is offered in two configurations: lite (up to 18 axes) and standard (up to 50 axes).
---
High-accuracy powertrain analysis
ZES ZIMMER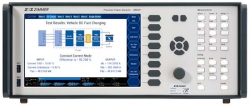 As a pioneer of power analysis equipment, ZES ZIMMER Electronic Systems provides precise power measurements to satisfy every automotive application. Its LMG600 power analyzer is at the forefront of innovation with tremendous capabilities and new features.
---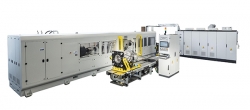 Test Industry will present its latest solutions developed for automotive components, such as test rigs for gearboxes and complete transmissions, hydraulic and mechanical subcomponents, wheels, tires, driveshafts and e-mobility components.
---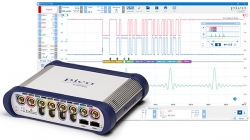 PicoScope PC-based test and measurement oscilloscopes are used to debug and accelerate the development of electronic designs in automotive and embedded system applications.
---
Real-time simulation station connects steering, braking and camera
Meccanica 42
Meccanica 42's simulation station combines distinct vehicle devices in a virtual simulation environment. The system provides a new approach to vehicle function development and allows testers to drive the hardware under test in the lab.
---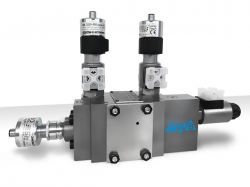 In accordance with current regulations/requirements from the Occupational Safety Act, the Industrial Safety Ordinance, and the Machinery Directive 2006/42/EC, FGB supplies its testing systems with a maximum safety factor for new plants and overhauls.
---
Test simulations for EV component loads
EDAG Engineering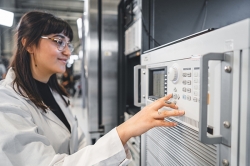 Electrical powertrain components are often subjected to extreme loads during their lifespan. To ensure they can withstand these, they need to comply with appropriate regulations and standards: LV 124 contains tests that correspond exactly to the wear and tear to which these components will be subjected.
---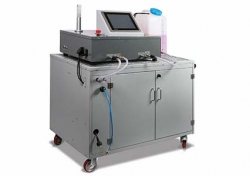 Autotestgeräte Leitenberger will exhibit automatic evacuation, filling and test systems for every type of cooling and thermal management system for combustion engine, fuel cell and electric vehicles.
---
Complete solutions across the test and measurement product lifecycle
HBK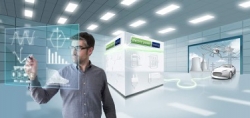 HBM and Brüel & Kjær have joined forces to form HBK (Hottinger, Brüel & Kjær), becoming one of the world's foremost providers of integrated test, measurement, control and simulation solutions.
---
Test center for hybrid, electric and fuel cell drives
Mooser

As the EMC laboratory for global automotive applications, Mooser qualifies customers' products for European, US and Asian markets.
---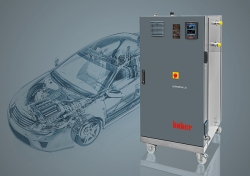 Huber products ensure precise temperature control in laboratories, pilot plants and production processes from -125°C to +425°C. The dynamic Unistat system pioneered the technological development of fluid temperature control.
---
Virtual sensors to enhance vehicle signals
Compredict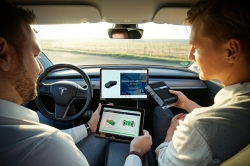 Hardware devices can rarely be deployed on whole fleets or over significant driving distances for both financial and practical reasons, as testing equipment typically requires frequent recalibration and is sensitive to vibration, shock, and harsh ambient conditions.
---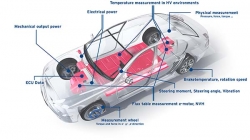 Stop by imc Test & Measurement's booth to see the latest version of the company's WAVE NVH software. The modular software platform has different analyzers that cover a range of applications, from noise analysis in road tests to structural analysis on test benches and vibration testing on machines.
---
High-resolution random control at low frequencies
Crystal Instruments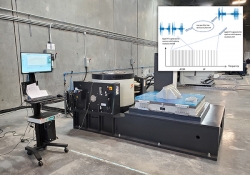 Multi-Resolution Random Control by Crystal Instruments can help solve the trade-off between control performance at low frequencies and the whole system response. This technique was recently introduced to the random control algorithm, dividing the whole frequency range into low and high frequency bands.
---
One-box solution for vibration measurement
Polytec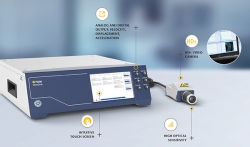 Polytec's VibroOne laser Doppler vibrometer is a one-box solution for non-contact vibration measurement. Users can analyze acoustics, dynamics and vibration issues in both R&D and industrial quality control. The vibrometer comprises an all-in-one front-end with integrated laser and a fiber-coupled, compact sensor head.
---
Converter for fuel cell endurance testing
Gustav Klein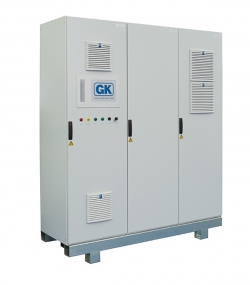 To meet the demand for fuel cell endurance testing, Gustav Klein is offering a special converter that feeds the generated energy to the electricity grid in Germany. If energy is only temporarily fed into the grid for testing purposes and the device under test is changed frequently, the grid-tied inverters do not require AR-N 4110 or AR N 4120 certification.
---
High-speed LED lighting
Visol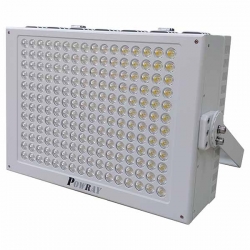 During crash testing, the moment of collision is captured using high-speed cameras from multiple angles to measure the safety of the vehicles accurately. In response, Visol has developed POWRAY, the world's first high-powered LED lighting system made specifically for high-speed filming.
---
Test rig and planetary gearboxes
Pulsgetriebe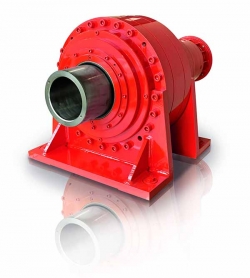 Two different gearboxes for industrial applications will be exhibited by DC power supplies manufacturer Pulsgetriebe. The company's gearbox for test rigs has been modified and validated over the last few years to fit increasing requirements for automotive testing.
---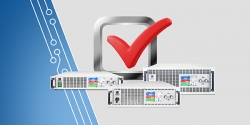 EA will present its enhanced and expanded 10,000 series line of EA-PS and EA-PSI programmable DC power supplies, the EA-PSB bidirectional DC power supplies and the EA-ELR regenerative electronic DC loads.
---
Non-signaling RF test platform for connected cars
Noffz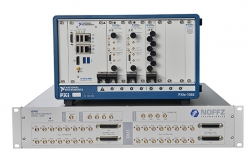 Wireless communication standards are the baseline for state-of-the-art vehicles, enabling advanced HMIs, connected services and autonomous driving. This trend creates a need for parallel test solutions with high channel count and testing requirements.
---
Drive and load units for test benches
Dasym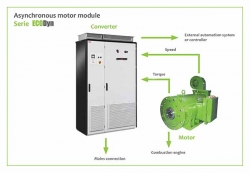 Dasym will present the ECODyn series of standardized drive and load units for test benches. The modules are divided into five series, with three – H, M and L – for combustion engines.
---
Non-contact full-field vibration measurement
Optomet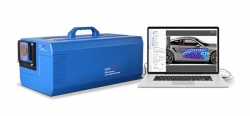 Optomet's scan series features superior signal quality components, reference channels, integrated signal generator and an intuitive video function for creating and exporting high-resolution videos of the measurement results.
---
Snowmaking systems for industrial testing
TechnoAlpin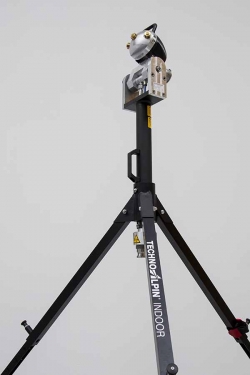 TechnoAlpin's solutions can create various test scenarios in climatic wind tunnels or cold chambers 365 days a year, regardless of the conditions outside, thus saving on resources. As a result, prototypes can be tested faster and, most importantly, more frequently, under exactly the same reproducible conditions in-house.
---
Radar cover analysis
Perisens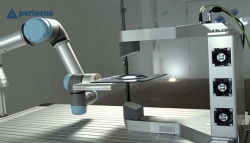 Perisens is proud to present its Radome Measurement System (RMS) to analyze radar covers and characterize materials such as plastics or paints. The system is offered in two versions: the RMS-D for development and quality control, designed for laboratory use, and the RMS-C for EOL testing in production.
---
Next-generation antenna testing
Pulsaart by AGC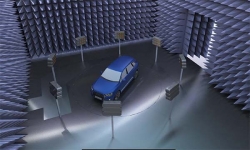 Looking for help designing a new antenna or improving an existing product? Pulsaart by AGC will be in Stuttgart to demonstrate its state-of-the-art simulation tools to transform your specifications into a real design. In particular, the company will promote its new 'virtual drive tests' service – a complete, rapid and standardized validation methodology in a controlled environment, replacing conventional drive tests.
---
Power testing and integrated measurement
Yokogawa Deutschland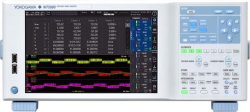 Yokogawa's award-winning WT5000 Precision Power Analyzer and DL950 ScopeCorder help its clients increase efficiency and evaluate and validate during R&D.
---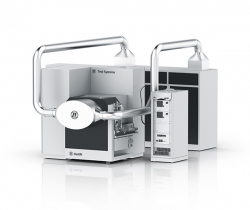 Realistic, reliable and reproducible test bench measurement data is needed to investigate the influences on the emissions behavior of passenger car vehicle brakes.
---
Secured-core PCs for vehicle testing
Panasonic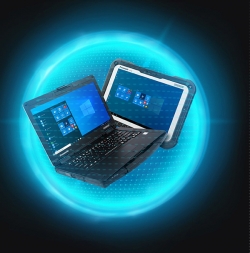 Selected by Microsoft as one of the first secured-core PCs, Panasonic will provide demonstrations of its Toughbook 55 and Toughbook G2 for the automotive industry at this year's Expo.
---
RTK-enabled datalogger
Racelogic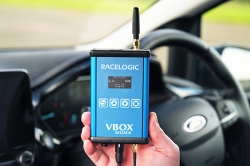 At Automotive Testing Expo, Racelogic will demonstrate its latest RTK-enabled datalogger, Sigma. With an integrated NTRIP modem, it delivers centimeter-level positional accuracy in challenging environments and is an ideal reference for ground truth.
---
High-voltage measuring cable for EVs
SAB Bröckskes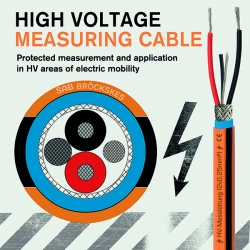 In e-mobility component and vehicle test benches, an appropriate connection technique must be adopted. Specifically, the rating of various components and power electronics demands special cables adjusted to the requirements of test engineers.
---
Dynamic car seat linear test system
Oilgear Towler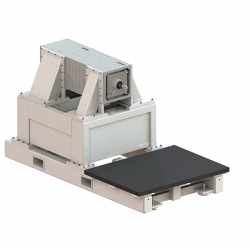 Developers of car seat components, such as recliners or tracks, are faced with a difficult task: how to test samples to verify FEA simulation or ensure CoP, and how to easily perform a test on a preproduction sample or prototype.
---
Low-profile robotic platform for VRUs
SEA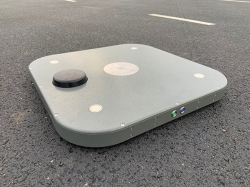 STRIDE (Small Test Robot for Individuals in Dangerous Environments) is a new, ultra-low profile, overrunable robotic platform developed by SEA. Designed for carrying vulnerable road user (VRU) soft targets such as pedestrians and bicyclists, the platform is highly maneuverable, with a turning radius of zero and up to 5m/s2 acceleration and braking.
---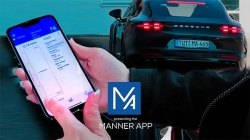 At the upcoming Expo, Manner will showcase a new feature for sensor telemetry, a smart interface and app which enables users to check the data and health of their measurement application from anywhere, without a physical connection.
---
Improving camera data management
Solectrix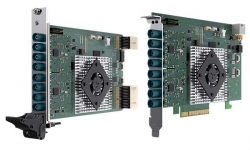 This year's Automotive Testing Expo will see the debut of Solectrix's proFRAME camera adapters, which support the latest revisions of Gigabit Multimedia Serial Link (GMSL3) and Flat Panel Display Link (FPD-Link IV), enabling the connection of cutting-edge embedded cameras and displays.
---
C library safety qualification suite
Solid Sands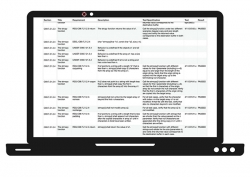 The SuperGuard C Library Safety Qualification Suite can be used to qualify both unmodified third-party C library implementations and self-developed or self-maintained implementations for safety-critical applications.
---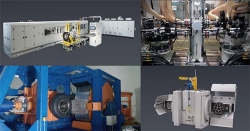 At Automotive Testing Expo 2022, Test Industry will present its latest solutions for the analysis of automotive components, such as test rigs for gearboxes and complete transmissions, hydraulic and mechanical subcomponents, wheels, tires, driveshafts and e-mobility components.
---
Test center in Morocco
UTAC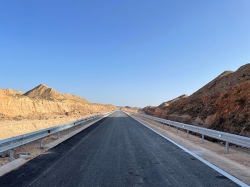 UTAC announces the opening of its first automotive testing center in Africa, situated in Oued Zem, Morocco.
Since the introduction of the Industrial Acceleration Plan (IAP) in April 2014, the Kingdom of Morocco has adopted a strong strategy for the development of the region's automotive industry.
---
Online calibration tool
Vemac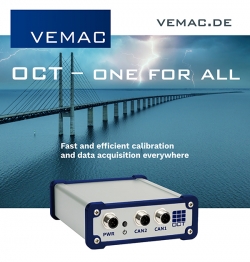 Vemac's online calibration tool (OCT) enables full remote access to its integrated calibration and datalogging functions, and can be connected to a test bench, test vehicle or measurement system via CAN or Ethernet.
---
1mm precision microphones for wind tunnel testing
GRAS Sound & Vibration

GRAS Sound & Vibration, part of Axiometrix Solutions, will showcase its new ultra-thin precision (UTP) microphones for wind tunnel testing.
---
Autopilots, steering and shift robots
Stähle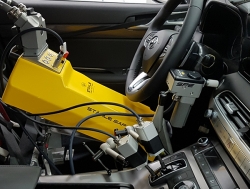 Stähle has installed more than 1,100 robots since 1984: its autopilots are used on chassis dynamometers and for dynamic vehicle tests on proving grounds.
---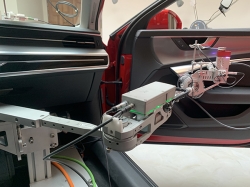 Kübrich Ingenieure recently announced that it has rebranded to Karing. At this year's Expo it will highlight its latest innovations for e-mobility, including EOL test systems for inverters, onboard chargers and starter generators, alongside pressure pulsation test systems.
---
EtherCAT data acquisition and real-time control system
Dewesoft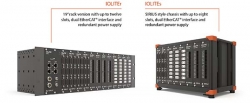 The measurement and control tasks of a test bench are typically divided into two parts. On one side, the real-time control part is driven by minimum delays and the continuous data needed for the closed-loop control – with the control rate typically 1kHz.
---
PXI standard test systems
dataTec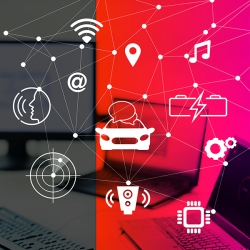 Representatives from dataTec will use Automotive Testing Expo to explain more about its test systems that conform to the PXI standard for test automation, originally pioneered by National Instruments (NI).
---
Datalogging and replay solution
AED Engineering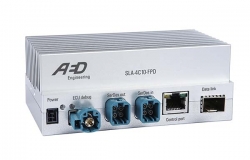 The validation of automated driving functionalities requires precisely recorded data from vehicle sensors such as cameras, lidar or radar, based on real driving scenes.
---
ADAS dummies and suspension test machine
AB Dynamics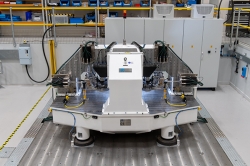 At this year's expo, AB Dynamics will introduce two new ADAS dummies, as well as showcase its ANVH 250 suspension test machine.
---
Cloud-based virtual XIL testing
MicroNova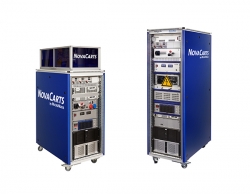 Visitors to the Expo looking for a hardware-in-the-loop solution should check out NovaCarts by MicroNova.
---
End-of-line test benches for EV and hybrid motors
Simpro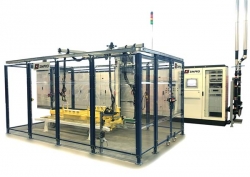 Simpro will showcase its new automatic control station that can increase the quality and efficiency of the production of battery packs used to power electric vehicles.
---
Small form cameras
Photron
Engineers are faced with multiple challenges when visualizing a vehicle's suspension, engine bay, footwell, or bonnet/boot release mechanisms using high-speed video; these space-constrained areas only allow for a camera with a very small form factor.
---
Berndorf Band Group's team of experts will be available to provide visitors with an overview of its high-quality steel belts and belt systems, able to operate at speeds up to 350km/h.
---
Zero bug application security test
TrustInSoft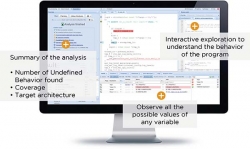 At Automotive Testing Expo 2022, TrustInSoft will unveil a new offer for the automotive and autonomous driving market that it believes will exhaustively prove the absence of bugs in vehicle software, while boosting the operational efficiency of the software.
---
Crash test accelerometers
DTS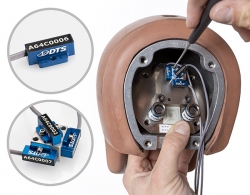 Proper sensor selection is a critical part of every test setup. When it comes to accelerometers, there are two common types: piezoelectric and piezoresistive.
---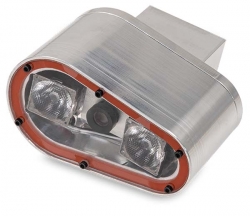 Michigan Scientific will use Automotive Testing Expo to present its latest creation, the TrueSlip sensor, which measures slip angle and side slip angle with high accuracy.
---
UK battery test facility with 200kN shaker
Applus+ Laboratories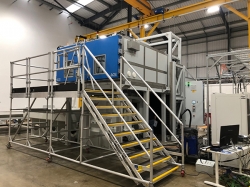 Applus+ Laboratories will use Automtoive Testing Expo to reveal more about how it has invested in a specialist facility dedicated to full vehicle battery pack and module testing in its Silverstone, UK laboratory, Applus+ 3C Test.
---
Flexible in-line ICT test system with small footprint
JOT Automation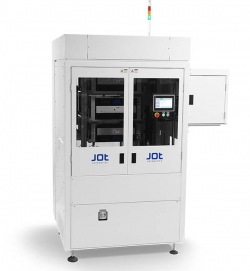 Custom test and assembly automation solutions provider JOT will demonstrate its new M5 Sparrow live at the expo. An ICT-capable variant, it features DigitalTest's MTS 30 Sparrow ICT tester, capable of two-phase testing, for example, in-circuit testing, programming, or functional testing.
---
Complete system for precise flow measurement
Ipetronik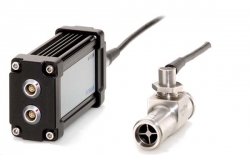 With its newly developed M-Flow measuring module and its highly precise turbine flow meter, Ipetronik will present a complete data solution for measuring flow rates across an entire vehicle at Automotive Testing Expo.
---
Climatic test cells for large vehicles
Greenmot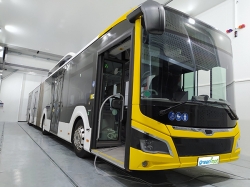 Greenmot will use Automotive Testing Expo to share details of two new, fully operational climatic test cells especially suited to larger vehicles, such as off-road equipment, articulated or double-decker buses, coaches, industrial vehicles, construction vehicles and military vehicles.
---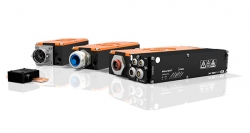 CSM will introduce its newest measurement technology solution for electric and hybrid vehicles, specifically designed for very confined installation spaces.
---
Thermostats for realistic testing
Lauda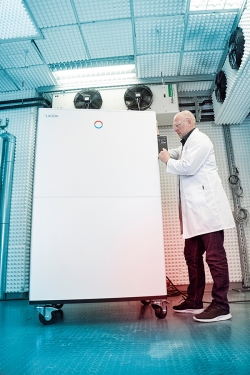 Lauda is expanding its range of integral process thermostats with two new devices: a pressure-blanketed Integral P variant and a high-performance Integral T variant.
---
Acoustic mapping tool offering 3D modeling
gfai tech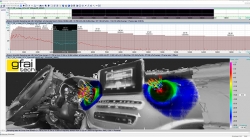 gfai tech, a specialist in the measurement and visualization of noise and vibration, will introduce its latest solutions for 3D beamforming and sound visualization at Automotive Testing Expo.
---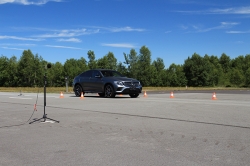 ATP will highlight its latest developments in test track safety at Automotive Testing Expo. The company has responded to the increasing need for efficient traffic control technology with its new traffic control and collision warning system, which ensures maximum safety amidst high traffic volumes.
---
Mobile particle emission counter
Dekati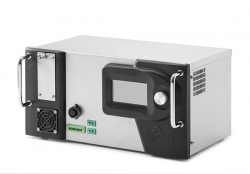 Dekati will introduce a new particle emission measurement instrument for PEMS/onboard applications. Its MPEC+ mobile particle emission counter is a portable and compact instrument for easy onboard particle number (PN) concentration PEMS measurements.
---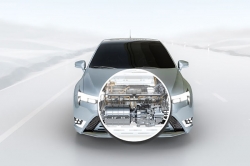 The fast-growing electromobility market is set to place significant demands on the leak testing of batteries, in terms of both development and end-of-line applications.
---
Crash simulation sled systems
Instron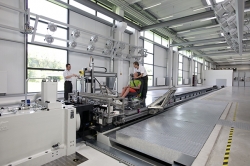 As one of the leading specialists for crash simulation and structural durability testing, Instron's crash simulation sled systems are used for the development and approval of vehicle safety systems, vehicle parts and for the investigation of solids and structures during crash events.
---