Speaker Details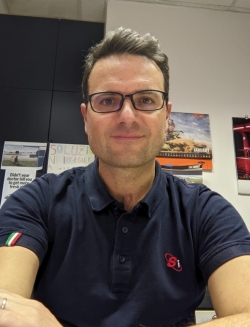 Marco Ezio Pezzola
Marco got his Mechanical Engineering Bachelor's degree in 2003 and the Ph.D. degree in 2007 at Politecnico di Milano. His research field belongs to vehicles and tires dynamic. Since 2004, Marco is Assistant Professor at Politecnico for Applied Mechanics; since 2018 he is Full Professor at Alma Mater Studiorum - Università di Bologna for Motorcycle Dynamics. Since 2004, Marco is at the head of Soluzioni Ingegneria, an engineering company with the mission to innovate. Running the 20th year of business, SI supports worldwide customers with solutions to shorten the time-to-market, giving the innovation the right shape into the developing process.
---
Presentation
Whole motorcycle-in-the-loop for control logics best tuning and verification
Control logics on board motorcycles are increasing in number and complexity. It follows that testing for correct response verification on proving grounds and/or on public roads becomes dangerous, difficult and time-consuming. The possibility of doing most of the work indoors, in safe and repeatable conditions, exploiting the HIL approach is becoming popular. But still some limitations occur, in particular when attempting to make multiple control logics work together, with real multiphysical-systems-in-the-loop. The innovative whole motorcycle in the simulation loop empowers the investigation capability and allows a considerable reduction of on-road tests, with correspondingly reduced risks/money/time.