New products presented at the 2022 show
Across three days last week, the Suburban Collection Showplace in Novi, Michigan, hosted the 2022 edition of Automotive Testing Expo, Automotive Interiors Expo and the Autonomous Vehicle Technology Zone.
At Automotive Testing Expo, visitors met more than 280 leading suppliers showcasing their latest technologies, solutions and services to help accelerate test, development and validation programs. The show presented the opportunity to find new collaborations and see product launches that combined human ingenuity, engineering, science and art, including: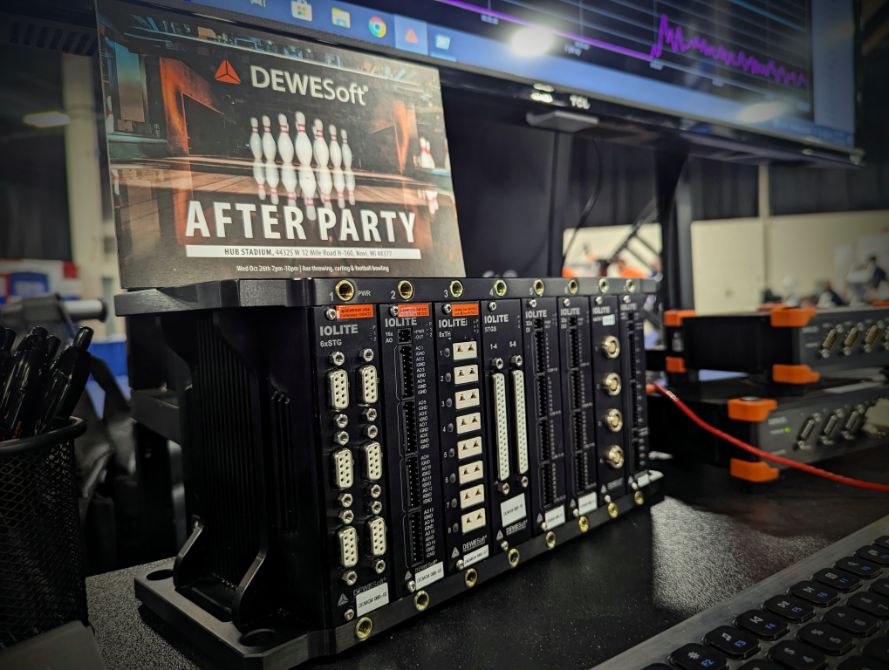 An impressive display by data acquisition system designer and manufacturer Dewesoft consisted of a Hummer and Corvette alongside its Sirius UNI amplifier, a one-stop solution for almost all test cases, from road load data to brake noise testing. Dave Gallop, business development manager at Dewesoft, said at the show, "With many measurement systems it is hard to say there is a one-stop solution that can easily interface with the myriad of sensors there are available today. The UNI makes it possible to add sensors that traditionally required dedicated conditioning into a single device designed to add an additional level of flexibility without sacrificing signal quality."
He continued, "Our experience with Automotive Testing Expo is based on having been there; we realize and have seen that it is broadly attended by leading engineers and developers from all avenues of automotive test and development. Almost all are seeking the latest time- and cost-saving approaches to their tasks, and we want them to see that Dewesoft is all about those factors: time and cost saving. The ease of use and flexibility save time and cost savings happen because the project is completed sooner!"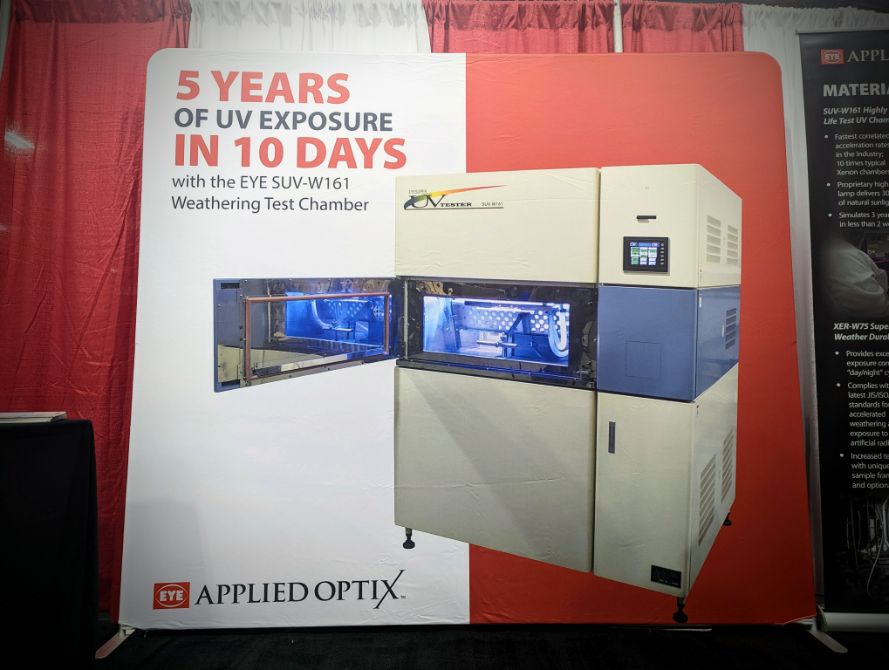 Other highlights included EYE Applied Optix's Super UV weathering chamber for polymers, paints and coatings. Capable of significantly reducing screening test time for weather testing polymers, paints and coatings, the chamber uses a metal halide light source instead of the traditionally used fluorescent UV or xenon light sources. The company revealed that demand for products to survive prolonged outdoor exposure continues to expand, therefore faster and more accurate exposure testing makes the chamber an indispensable tool for material development and research.
According to Doug Vermillion, director at Eye Applied Optix, "ASTM G155 Cycle 1 is a commonly run xenon test. A customer may run 2,500 cycles of this test, which takes 5,000 hours, or 208 days. The Super UV chamber can provide an equivalent UV dosage in a fraction of the time, taking only 194 hours, or eight days".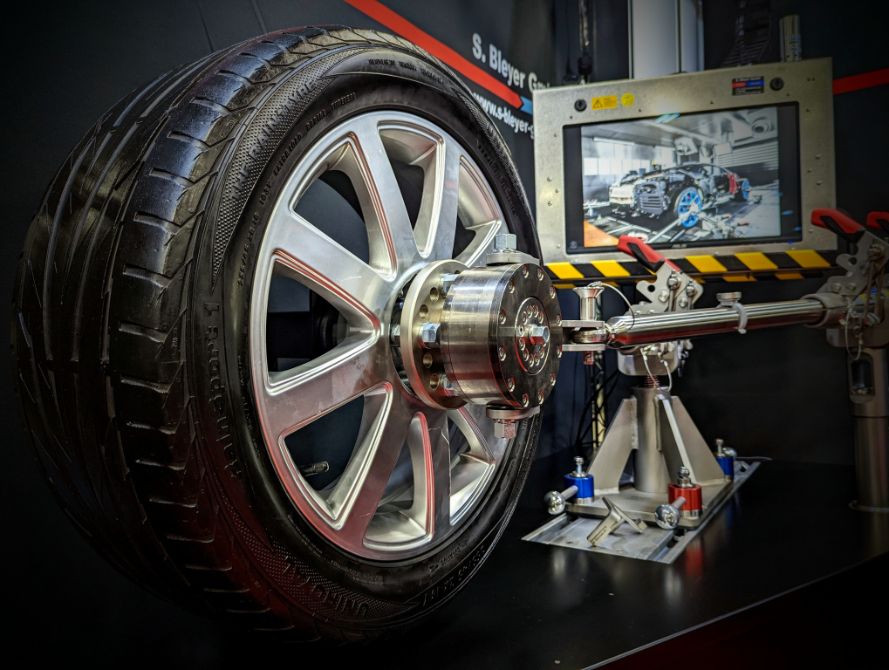 World-leading company for bar fixations S Bleyer GmbH came to Novi to display its wheel hub fixations, pictured in context on the Bugatti Chiron. Besides its well-known vehicle fixations for LDVs (<3.5 tons gross weight), the company has now also developed hook and wheel hub fixation systems for MDVs (<7 tons gross weight) and a wheel hub fixation system for heavy duty trucks (<11.5 tons weight per axle), increasingly in demand by North American customers. S Bleyer managing director Jens Bormann also revealed how, alongside its partner Wenger Lüftungstechnik (Austria), it has developed a method to revise the motors of fans in wind tunnels without opening the tunnel in the traditional way (lifting out the fan through the opened roof of the facility, bringing the fan to a workshop, revising the motor and reinstalling it).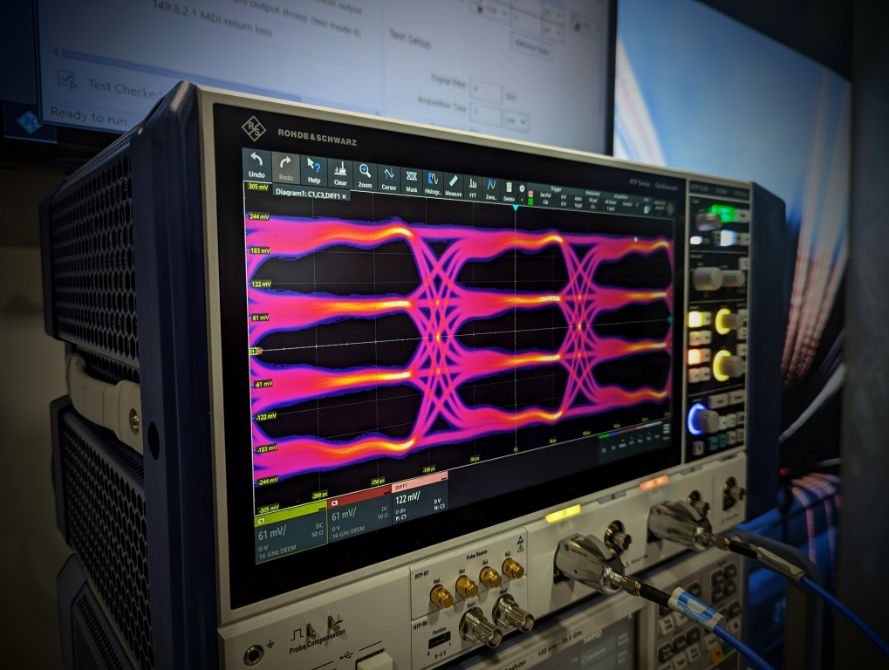 Meanwhile, Rohde & Schwarz showcased multiple applications in automotive application areas – wireless connectivity, radar, UWB, EMC/EMI testing, and CV2X.
The new R&S AREG800A Automotive Radar Echo Generator was on display together with the R&S QAT100 advanced antenna array. The solution highlighted how to test automotive radar sensors to generate realistic driving scenarios for HIL and VIL tests.
The new Automotive Ethernet compliance testing solution using its new RTPB oscilloscope was also demonstrated. Ram Mirwani, business development manager at R&S for automotive, explained the setup: "In our live demo, we are analyzing Automotive Ethernet via a unique live eye diagram, not a static snapshot, allowing you to see real-time interference on your signal."
The automotive radar testers, systems and software make it possible for component suppliers and vehicle manufacturers to develop robust, next-generation automotive radar, ensuring reliable and precise operation even in demanding environmental and RF conditions.
"We wanted to exhibit here because it is a nucleus for automotive efforts," revealed Ram. "We want to participate and engage with the industry based here with our holistic testing message that covers a range of applications performed on our platform, compliance, performance and EMC testing, and HIL testing among others."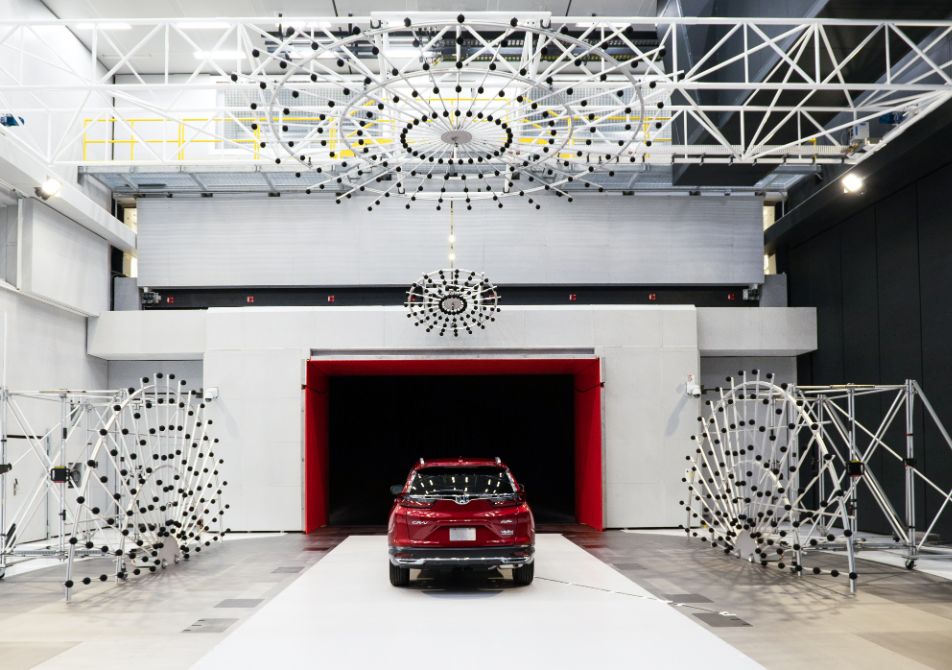 Honda Development & Manufacturing of America introduced its Honda Automotive Laboratories of Ohio (HALO) wind tunnel facility, located on the grounds of the Transportation Research Center in East Liberty, Ohio. The facility allows engineers to conduct testing and research in the areas of aeroacoustics and aerodynamics. The wind tunnel has a top speed of 310km/h, enabling it to support both passenger vehicle and racing programs. With its acoustic environment of <57dBA at 140km/h, engineers can measure, analyze and identify noise sources that directly contribute to the passenger experience. Chris Combs, wind tunnel business strategy lead, said, "We offer any type of testing where a uniform and repeatable wind source is valuable in your product's design and innovation. This includes, but is not limited to, aeroacoustics, aerodynamics, structural strength and CFD correlation. The potential is incredibly broad."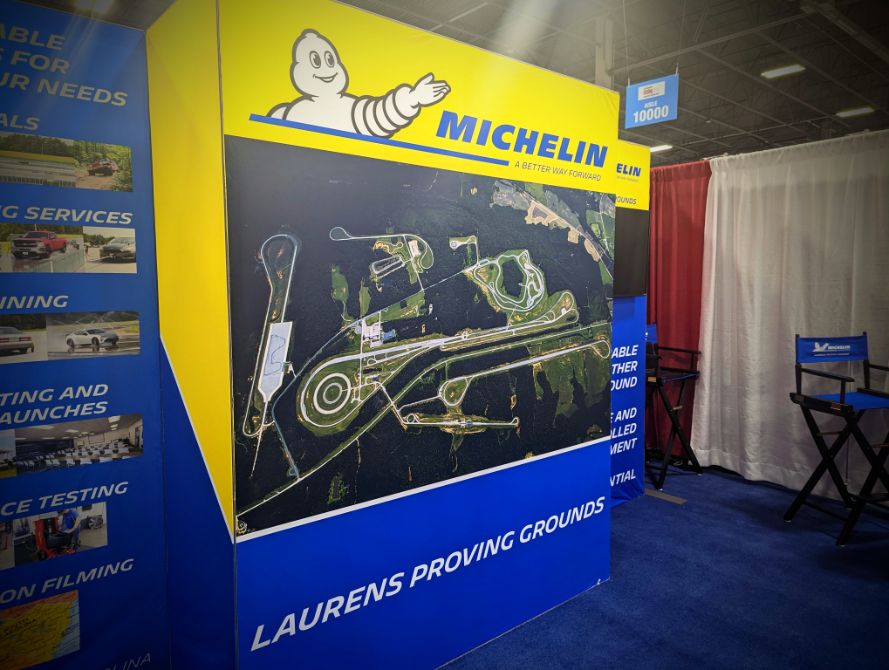 Sustainability initiatives and infrastructure upgrades at Michelin Laurens Proving Grounds were also announced at the expo, allowing customers to test a wide range of vehicles at any time of the year. Recently completed projects include the installation of multiple Level 3 DC fast chargers, an upgraded fire system allowing indoor electric vehicle storage for optimal confidentiality and a completely renovated main pumphouse that has achieved a 75% water usage reduction. The facility has also repainted lines around the majority of the main tracks, improving conditions for autonomous testing. According to Michelle Philipps, coordinator of engineering and services, Automotive Testing Expo offers an ideal avenue for proving grounds to communicate their improvements as it touches the vast majority of OEs and OEMs that comprise the majority of customers.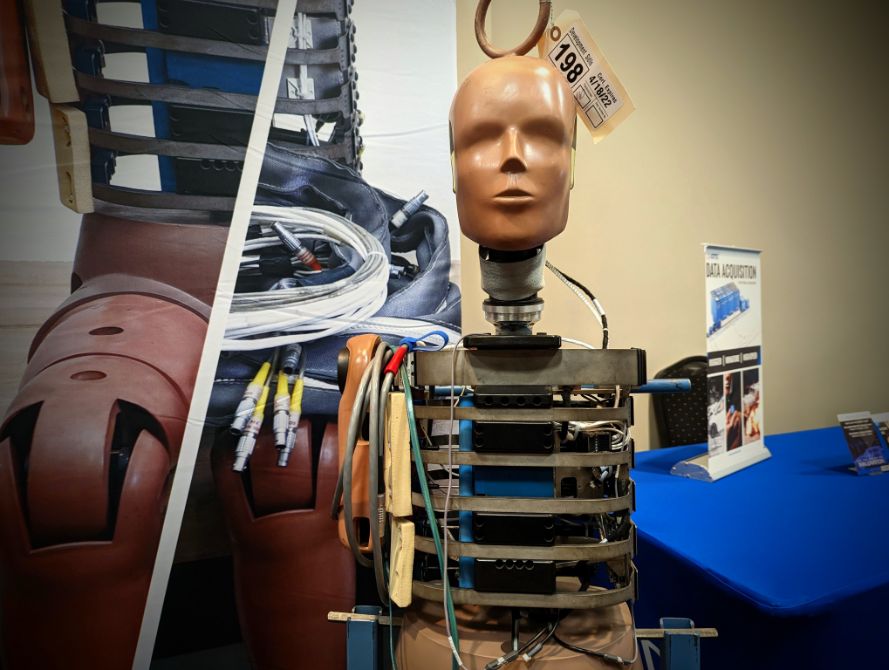 An innovative in-dummy data acquisition system (DAS) technology and new accessories to support high channel count tests with multiple ATDs was exhibited by DTS (Diversified Technical Systems, Inc.). The company attends Automotive Testing Expo every year to meet up with customers from around the world and to connect with new people in the automotive industry and beyond. "It's the only forum truly dedicated to automotive safety testing," enthused Shelly Horvath, marketing manager at DTS.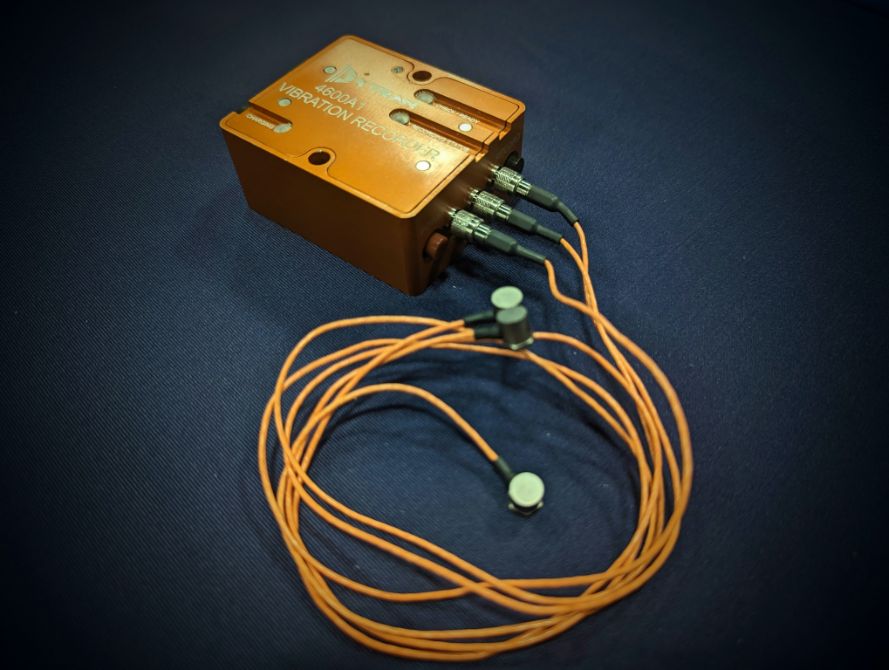 Dytran Instruments, Inc. displayed its new, simplified miniature multichannel datalogger, the 4600A1 VibraCorder. When combined with the company's wide range of accelerometers, the solution enables users to capture vibration data from a variety of automotive components, including circuit boards, suspension components, luxury seating and exhaust manifolds.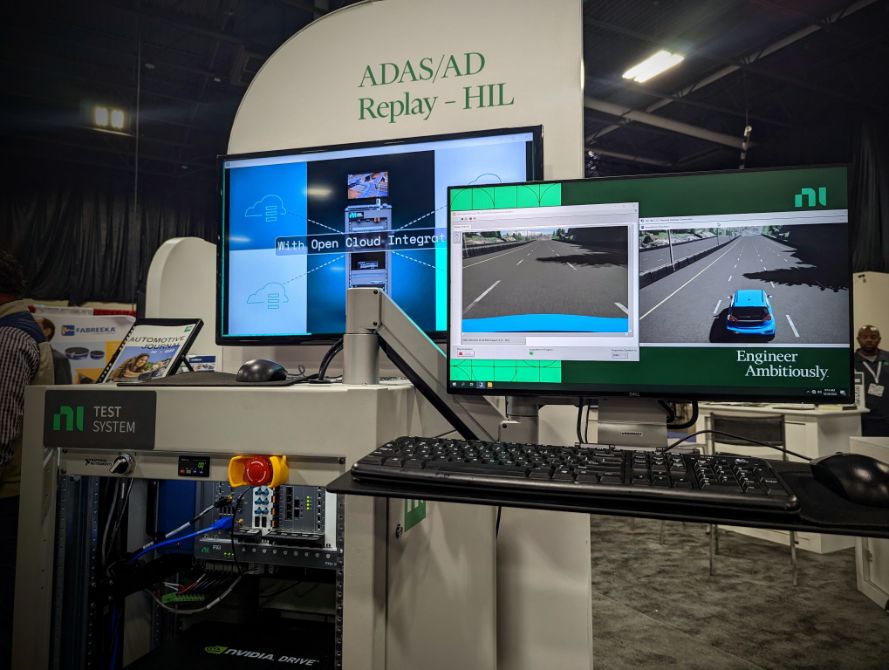 During the expo, NI (National Instruments) announced the release of two new systems that will test various vehicle technologies to ensure that safe and reliable autonomous vehicles reach the market. The release of 5G NR-V2X with SEA, a German product and system integration company providing test and measurement systems, can better support the testing of autonomous vehicle technologies. In addition, its latest ADAS and AD offering is a unified test system architecture that moves iteratively between data replay and hardware-in-the-loop (HIL) testing.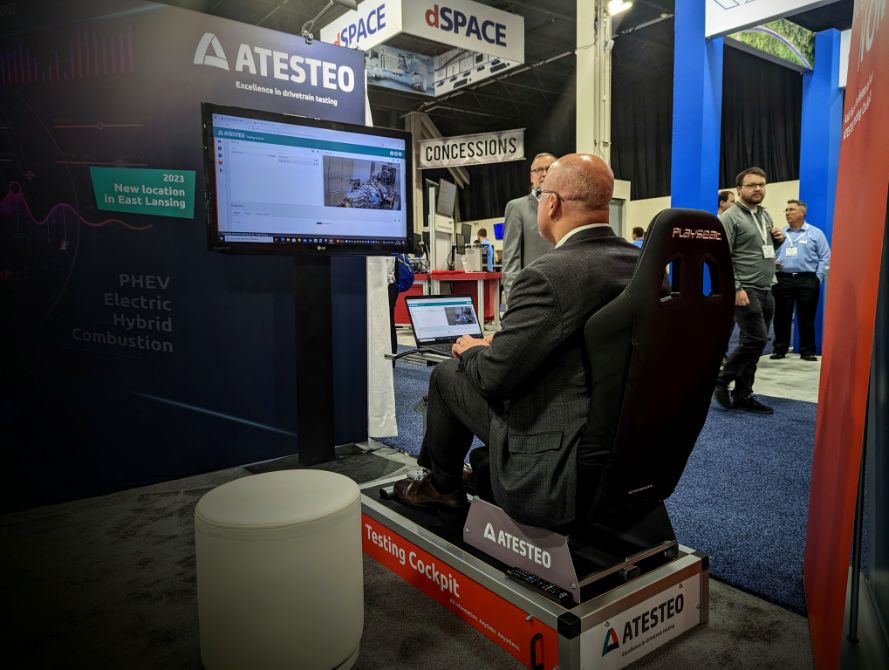 ATESTEO, a leading drivetrain testing specialist for early testing of new drivetrains on test benches, revealed it is building a new North America headquarters in East Lansing, Michigan, to accelerate electric and hybrid drive development in the USA. The new testing site will begin operations in 2023 with 10 adaptable high-end drivetrain test benches for testing battery, fuel cell, hybrid and ICE drives, ATESTEO also conducted live demos of its Testing Cockpit.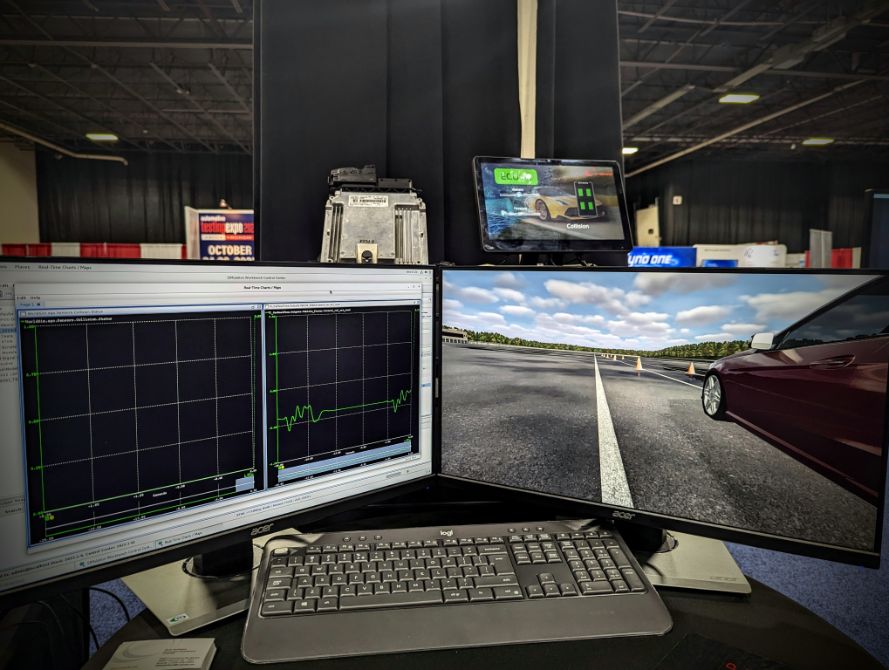 VI-grade showcased its new state-of-the-art, flexible hardware-in-the-loop (HIL) solution, AutoHawk, which is now available for the first time in North America. Visitors experienced the solution live and in action at VI-grade's booth.
"I am pleased to introduce our new, flexible HIL platform AutoHawk to the North American market at Automotive Testing Expo in Novi," said Dean Streck, director for North America at VI-grade. "The HIL market is critical for driving innovation and allowing us to leverage our core competencies and experience in driving simulation and simulators. Our vision is to build an integrated, virtual test approach, with hardware-in-the-loop being an essential component of the development process. This will enable our customers to decrease the number of physical prototypes throughout the entire development cycle and to ultimately achieve virtual sign-off."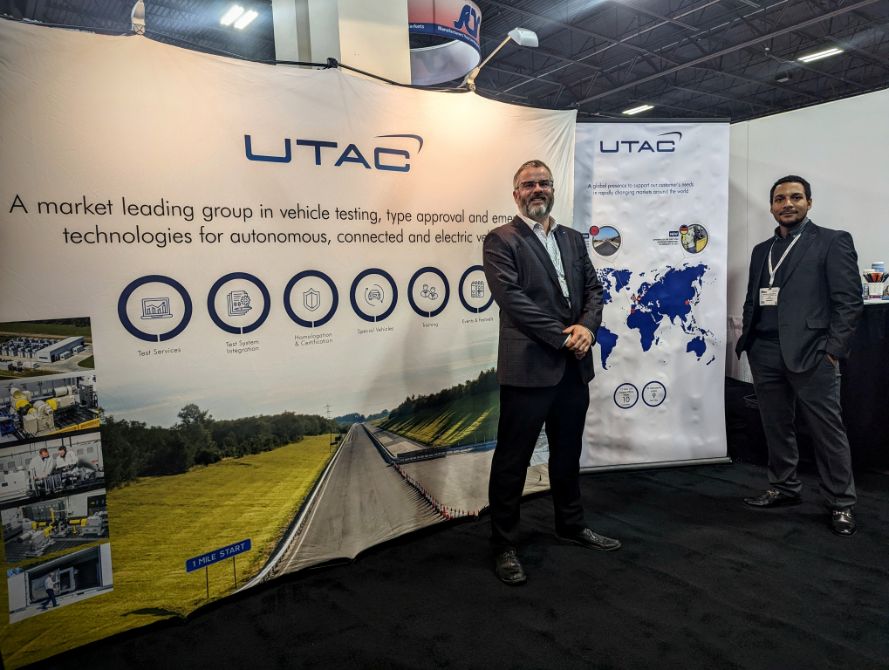 New battery testing chambers were also on show, with UTAC sharing with the North American market the expansion of its battery testing laboratory in its UK facility.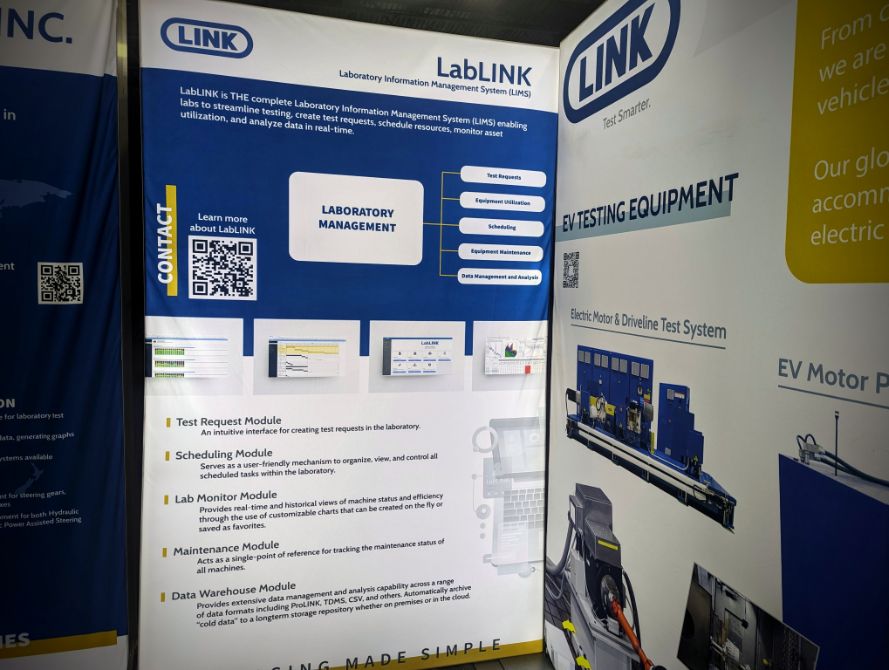 Link Engineering Company showcased the latest capabilities in LabLINK, its browser-based Laboratory Information Management System (LIMS).
Jerry Curtis, the company's VP of software and controls, said, "Link has long attended the Automotive Testing Expo due to the tremendous value it brings in both meeting new contacts and reacquainting with existing contacts. Featuring LabLINK in an environment focused on the testing industry provides Link with the best opportunity to showcase our capabilities to a targeted audience of industry professionals. We are looking to make contacts with others in our industry who are now facing the challenges we saw many years ago when we began development of LabLINK. Essentially, any company who is currently using in-house, legacy or otherwise inefficient means to manage their test operations will find merit in LabLINK, and we'd appreciate starting a conversation with them."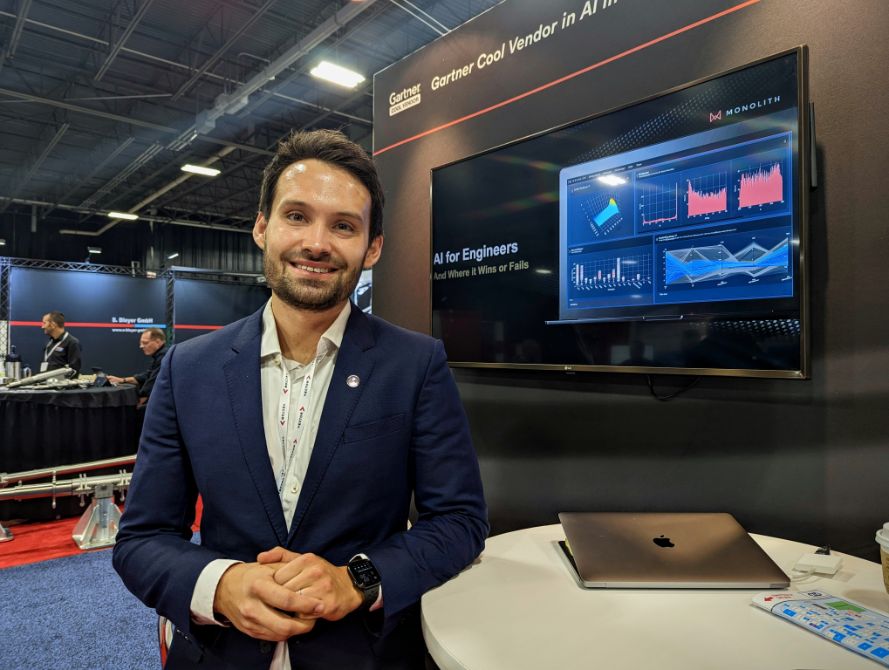 Meanwhile, the Technology Presentation Stage featured unmissable presentations from over 40 speakers.
Monolith founder Richard Ahlfeld shared how BMW Group uses AI to accelerate crash tests. Ahlfeld explained, "We're in Detroit to share the results of our work with BMW and share ideas on the future of engineering – namely the role of AI. We're looking forward to expanding our network and further understanding the needs of engineers."
In an announcement live at the show, Monolith revealed the results of its collaboration with Textron company Kautex to solve one of its most complex engineering challenges, using new AI software applications for mitigating fuel 'sloshing' noises.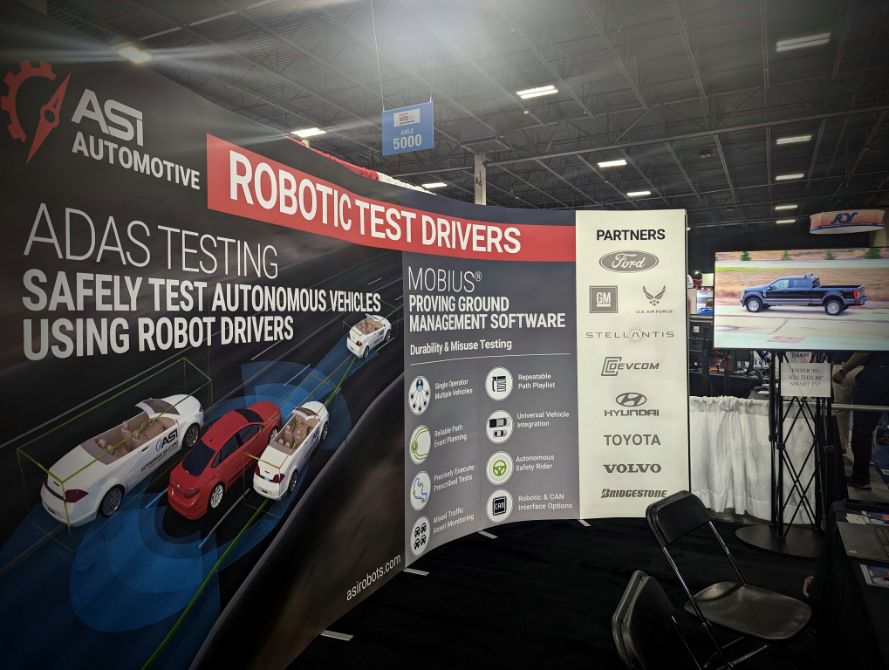 Other presentation highlights included Jed Judd, automotive product manager at Autonomous Solutions, Inc. (ASI), who demonstrated robotic choreographed testing for ADAS/AVs.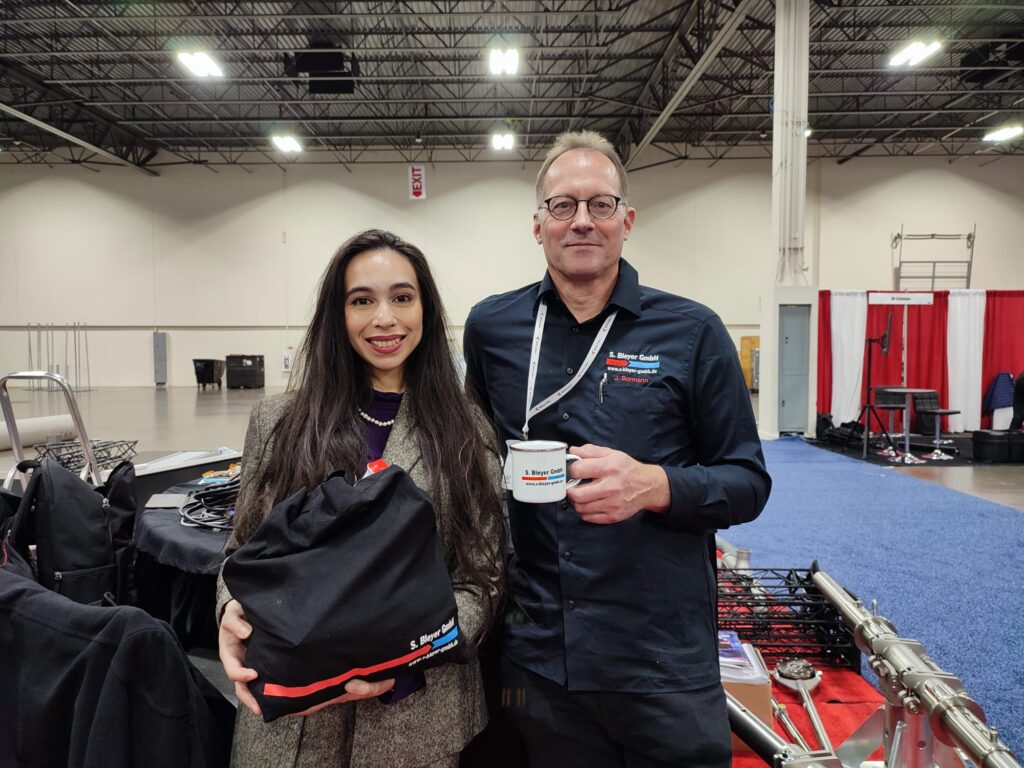 Automotive Testing Expo's Charlotte Iggulden (left) with S Bleyer managing director Jens Bormann. Charlotte said about the show, "It was a pleasure to meet the innovators helping to drive the current and future trends"
Automotive Testing Expo will return to Novi, Michigan, on October 24, 25, and 26, 2023. Save the date or register to secure your place!