SOME OF THE NEW PRODUCTS ON SHOW
Day 2: Atesteo begins commissioning new US$27m driveline test facility in the USA
Atesteo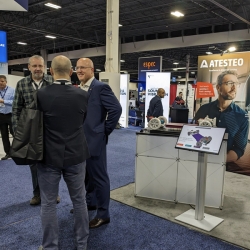 Drivetrain analysis specialist Atesteo is at the expo to talk about its plans to open its first test center in North America, explaining that the commissioning process has just begun. Situated in East Lansing, Michigan, the 3,250m2 testing and calibration facility is worth US$27m. According to the president of Atesteo North America, Roy M Schulde, many of Atesteo's current customers have operations in the USA and had asked if the company would consider setting up a resource in the region.

After deciding to open the North American hub, preparations began in December 2022. Now Atesteo has revealed that it is in the final stages of commissioning the initial test bench. At full capacity there will be 24 test rigs for the analysis of electric motors, inverters, hybrid drives and e-axles for the passenger car, light and heavy truck and rail vehicle segments.

Schulde said, "We are bringing the facility online in two phases. Phase 1 will involve 11 test benches. We will then evaluate customer demand to determine what we do in Phase 2. Market requirements keep increasing, with higher torque, power, voltages, etc, and we want to ensure the equipment is state of the art so we have designed the facility to be flexible."

Also available at the site are environmental simulation climatic chambers and a calibration laboratory. All test benches are equipped with DC controllers with a power of up to 650kW, 1,000V and 1,000A.

The company expects to create more than 45 jobs over the next few years.

Highlighting a successful start to the show, Schulde added, "This year's show is especially exciting because we are launching this facility, which is only an hour away. It's a great opportunity to meet with current as well as prospective customers. We've spoken to customers that have already put in RFQs and we've met some potential new ones."

Head to Booth 3011 to learn more about Atesteo's new facility.