SOME OF THE NEW PRODUCTS ON SHOW
Day 2: Scantek's acoustical capacity meter quickly measures engine cavity capacities using sound waves
Scantek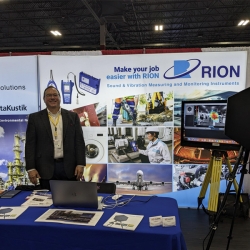 Scantek is at the expo to discuss the newly developed Rion acoustical capacity meter. The combustion chambers in the cylinder head block of a vehicle have a large influence on driving performance. Rion's technology enables high-accuracy measurement of the capacity of these chambers. Instead of conventional methods using liquids, the new acoustic capacity and volume meters can precisely and quickly measure the capacity/volume of a combustion chamber under dry conditions using sound waves.

Ed Okorn, Scantek's president, said, "Regardless of the shape, the combustion chamber capacity can be measured by simply placing the capacity meter on the combustion chamber cavity of the cylinder head. Instead of using a spark plug of the assembled engine, special adapters are used to connect to the capacity meter."
During engine manufacturing or maintenance, combustion chamber capacity can be measured in just two seconds in dry conditions.

Okorn added, "Automotive Testing Expo is a great opportunity to freely discuss new solutions and technology directly with the automotive design and test engineers. We look forward to showcasing several new and innovative vibroacoustic-based solutions to support the success of the automotive industry."
Visitors are invited to Scantek's booth (13018) to discuss the Rion acoustical capacity meter – and more.