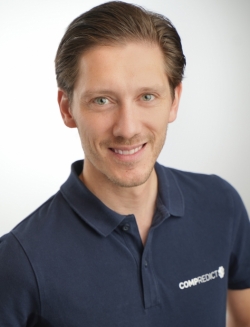 Daniel Dilmetz
Dr. Daniel Dilmetz studied Business Administration and Industrial Engineering with a specialization in Mechanical Engineering at the TU Darmstadt. Then, he worked as a research assistant and PhD student at the Department of Entrepreneurship at TU Darmstadt, where he successfully completed his PhD in 2022. He joined Compredict in 2021 and has been working in business development since then. Oliver Plenter studied Mechenical and Industrial Engineering at TU Braunschweig. In 2019, he joined Kistler as a Divisional Project Manager in the Field of Automotive Testing and Research. Currently he is a Business Development Manager for Vehicle Testing Applications.
---
Presentation
Compredict x Kistler: defining the future of vehicle durability testing
Current mobility trends such as autonomous driving and electrification result in increasing challenges for vehicle manufacturers, noticeable even in the development process. Testing and design scenarios must be carried out quickly, efficiently and safely. Kistler, the leading manufacturer of measurement equipment for automotive testing, and Compredict, the Virtual Sensor company, present a partnership approach to make vehicle testing more efficient and meet the challenges of the future. Using the example of the virtualisation of wheel force transducers, Dr. Daniel Dilmetz and Oliver Plenter present the joint partnership and give an outlook on the future of vehicle testing.