New Products Shown in '23
DAY 2: Chongquin caeri showcases 6-DOF Vibration Platform
CAERI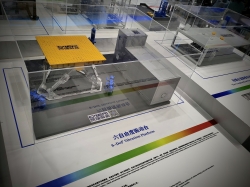 CAERI TEST 6-DOF Vibration Platform is a six-degree-of-freedom electro-hydraulic servo vibration platform. It can accurately simulate various actual vibration environments, such as structural fatigue and noise tests for vehicle components and subsystems. It is also applicable in high-precision vibration testing for industries like aviation, military, and civil engineering. The platform has a compact structure and strong load-bearing capacity, making it easily integrated into the testing and validation system, helping users shorten the testing cycle, reduce costs, and accelerate product launches. Users can choose suitable specifications and models or request custom development according to their needs. The control system includes high-precision closed-loop control algorithms, freedom control, multi-axis coupling control strategies, and various compensation and correction functions. This system has been successfully applied in hundreds of sets of electro-hydraulic testing equipment. The platform's durability and reliability have been enhanced through optimized design, and a professional technical team is available to respond quickly to user requirements, providing support for product development and testing validation work.

An engineer at CAERI says, "The 6 DOF Vibration platform is the latest achievement from CAERI TEST Equipment in the field of high-precision vibration testing. It is dedicated to simulating a more realistic vibration environment, providing users with the support to develop safer and more reliable products."

Meet CAERI at booth 10000.