New products presented at the 2023 show
After a three-year hiatus, India's largest automotive testing, development and validation technology show, Automotive Testing Expo India 2023, returned to the beautiful city of Chennai on April 18, 19 & 20, with more technology on display and exhibitors to meet than ever before.
More than 160 specialist suppliers gathered at the CTC Complex to showcase new solutions to enhance the quality, reliability and safety of vehicles and their components, as well as to eliminate or substantially reduce recalls.
Read on to discover highlights including the opening ceremony with Knowledge Partner ARAI (Automotive Research Association of India), plus a selection of news from the exhibition floor, Technology Presentation Stage and ATS Forum.
Knowledge Partner ARAI led the opening ceremony outside of the CTC Complex on Tuesday, April 18, where Nitin Dhande, ARAI's senior deputy director and head of business development and corporate planning, was joined by members of organizing company UKi Media & Events: Dominic Cundy, event director; Jason Sullivan, senior sales manager; Tom Neville-Towle, sales manager; and Charlotte Iggulden, head of marketing (automotive events).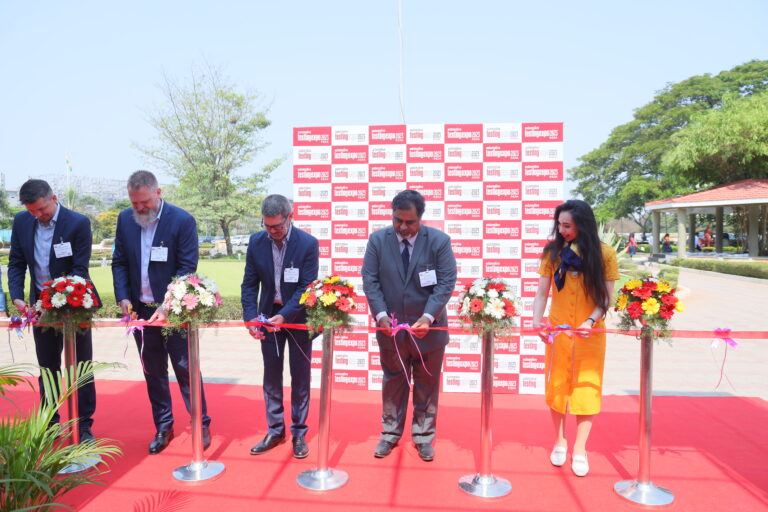 The ceremony began with the cutting of the ribbon, followed by a group photo and the Indian tradition of lamp lighting. Charlotte then bestowed Mr Dhande and her colleagues at UKi with a flower bouquet and fabric shawl before delivering a welcome address alongside ARAI to announce that the show was open.
On the exhibition floor, non-contact laser vibrometry pioneer Polytec demonstrated its latest PSV vibrometer with patented QTec technology, a high-resolution, non-contact measurement solution for challenging surfaces. Managing director Chris Chia revealed, "QTec's Multi-Path interferometer allows multi-perspective detection, achieving better SNR, minimized influence of incidence angle and lesser averaging requirements. QTec addresses drop-out issues for unrivaled data in rotating surfaces. Automotive Testing Expo India remains the leading exhibition for the Indian automotive industry. We are excited to showcase our latest QTec Scanning Vibrometer to address their most challenging measurements."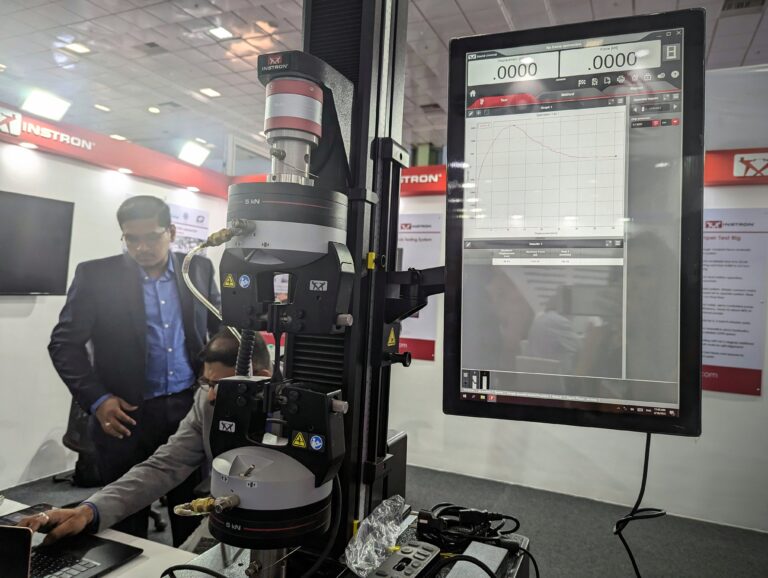 Meanwhile, Instron India displayed its state-of-the-art noise detection test system and new 6800 EM (electromechanical) test system. Its 6800 and 3400 series of EM systems now have enhanced features such as smart-close air kit, collision mitigation and built-in safety coaching to make its test systems simpler, smarter and safer.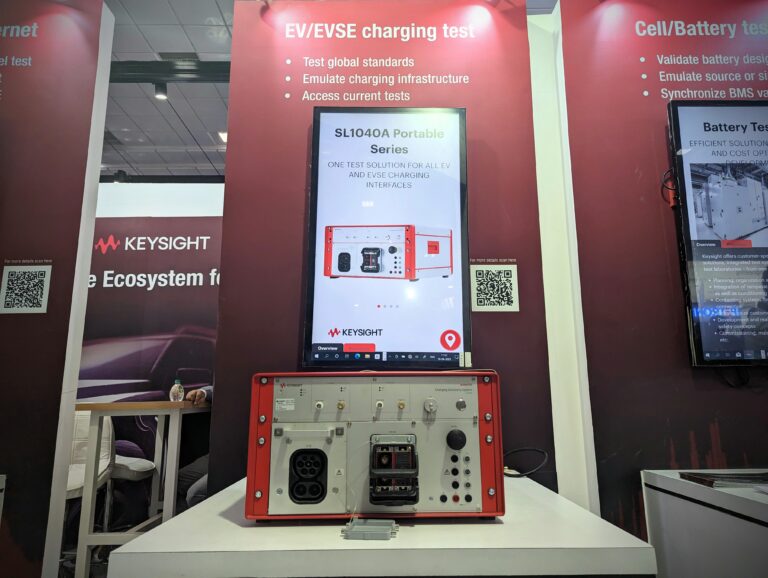 Keysight shared how its expanded e-mobility test portfolio helps EVs and electric vehicle supply equipment (EVSE) to conform to global standards for operational safety and performance, as well as the benefits of its Radar Scene Emulator, which combines miniature radar target simulators into a scalable screen. Sadaf Siddiqui, GM of industry marketing, stated, "For many years, [the expo]has brought the entire automotive ecosystem under one roof where people connect and interact on various technologies. This year, after Covid, we shared our contributions and test innovations. With EVs a key buzzword, we showcased new additions in our charging test solutions range. The industry is witnessing a major transformation in e-mobility, connectivity, safety and security."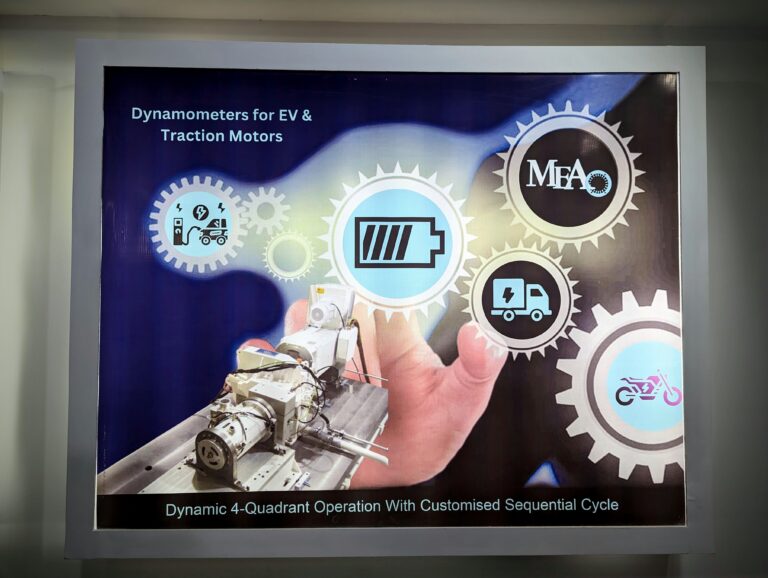 MEA Testing Systems shared how its patented IDS load-less, inertial dynamometer measures the complete performance of electric motors and EVs to provide dynamic and static results. Menny Shalom, the company's CEO, explained, "The MEA IDS dynamometer can test many motors not possible with the traditional method using an external load, due to the motor's size or speed. Automotive Testing Expo is an excellent platform to present and introduce it to the automotive and EV industries, and India is a powerhouse in these industries. MEA has a great number of solutions in the Indian EV market, with many satisfied returning customers."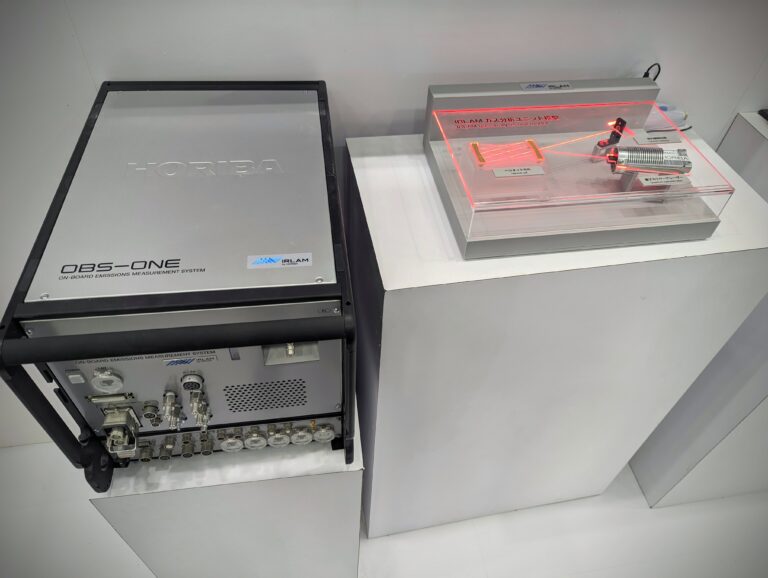 Horiba displayed its new IRLAM analyzer that can measure gases accurately in real time, which is difficult with conventional infrared gas analysis technology. Marketing representative Bhavesh Ambre explained, "Horiba presented its next-generation infrared gas analysis technology as India's shift to alternative fuels such as H2 ICE and E20 will be rapid, making it one of the countries most focused on clean energy research and development. Alternative fuel exhaust gas contains more water than gasoline or diesel exhaust gas, which can interfere with analyzers. Our exhibit raised awareness of IRLAM and FTIR so that alternative fuel emissions can be measured with high accuracy."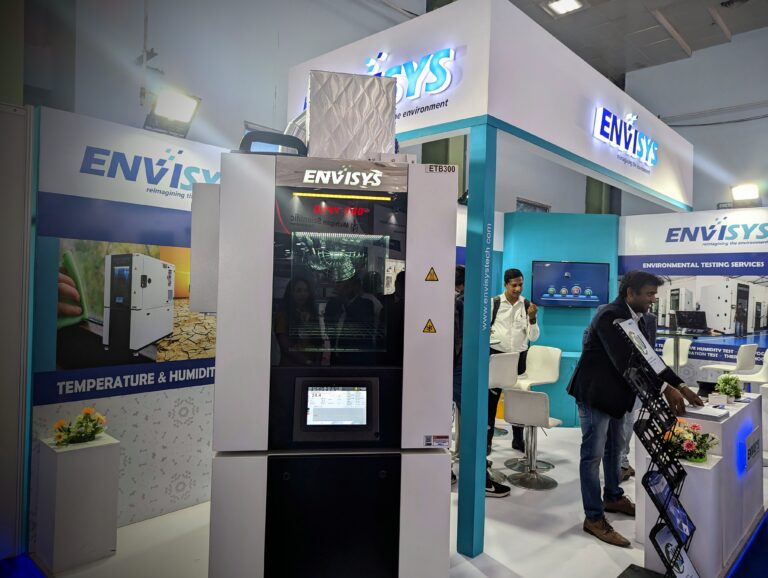 The ETB-Series environmental test chambers for battery testing were on display at Envisys Technologies' booth. Designed for conducting environmental tests on automotive battery packs, modular cells and lithium-ion batteries, the ETB-Series solution ensures battery safety, reliability and durability. Dr Anil Kumar Kottani, director, explained, "Environmental tests can help identify potential issues and ensure they meet safety standards and regulations."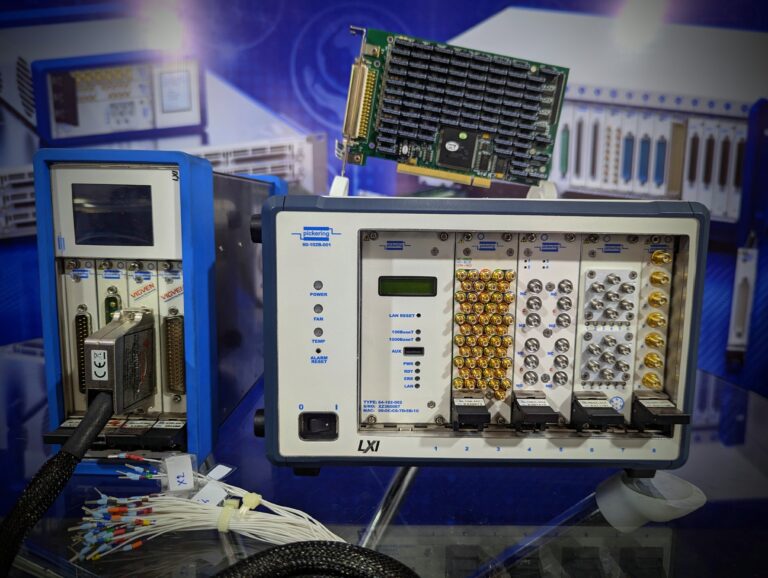 In collaboration with its local agent VigVen Tech Mark, Pickering Interfaces showcased its modular signal switching and sensor simulation products for electronic test and verification. Demoing an EV BMS test rig, software manager Alex Jaiboy said, "Electronic complexity in automobiles has increased rapidly, making testing these subassemblies challenging – more so with EVs. All ECUs, from simple body controllers to engine management units, need signal switching and sensor emulation for adequate testing – whether high-current switching for motor control, resistive temperature sensors for engine management or high-voltage switching. HIL simulation can replicate an ECU's reaction to external fault conditions, allowing you to test first in a virtual environment."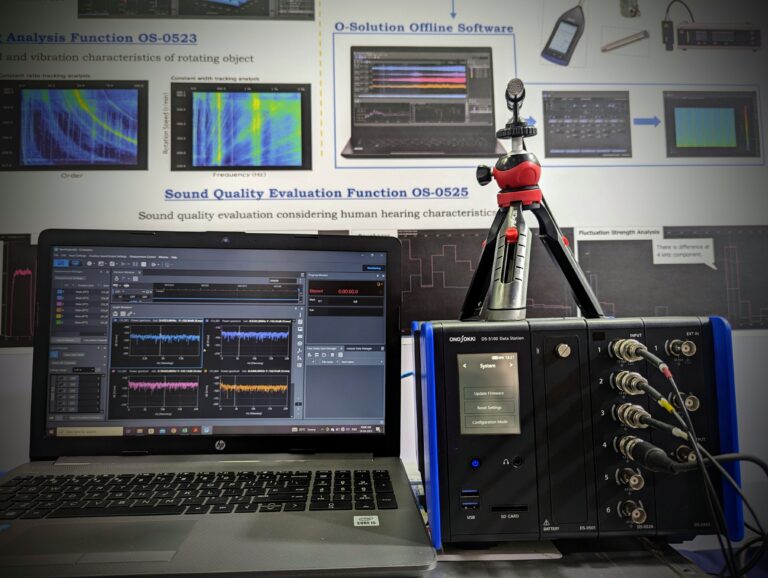 Leading manufacturer of measurement and testing equipment Ono Sokki India highlighted its system for sound and vibration analysis and highly accurate mass flow measurement for CO2 reduction. The O-Solution/DS-5000 provides reliable measurements of the mass flow rate of air entering the engine, playing a crucial role in improving ICE energy efficiency.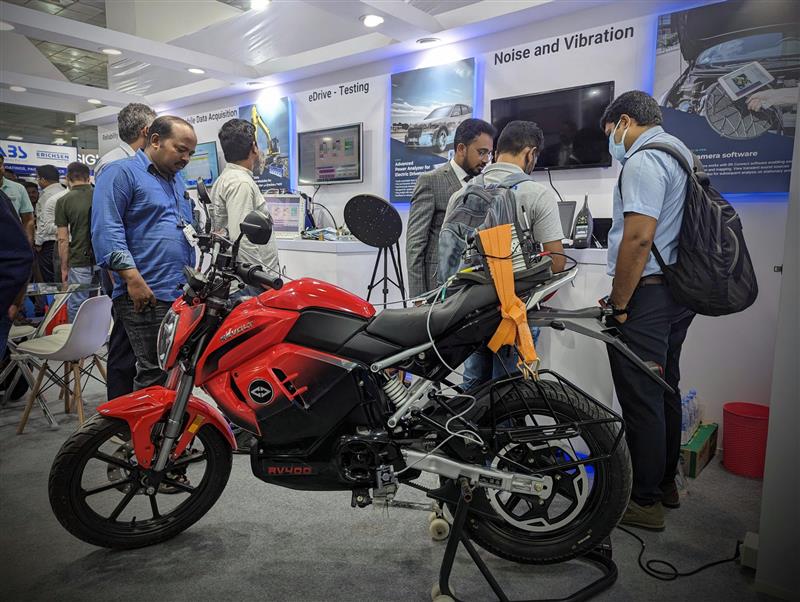 Integrated and comprehensive physical test solutions were on show by HBK – Hottinger, Brüel & Kjær. As India is one of the biggest markets for motorcycles, HBK showcased its SomatXR Ruggedized Data Recorder on an electric motorcycle, as well as an acoustic camera, general NVH and Genesis e-drive solutions. The Genesis transient recorder for e-drive systems boasts high base power accuracy of 0.02% at high sample rates, and real-time and offline calculations with trackability formulas on all channels simultaneously with a full sample rate of 2MS.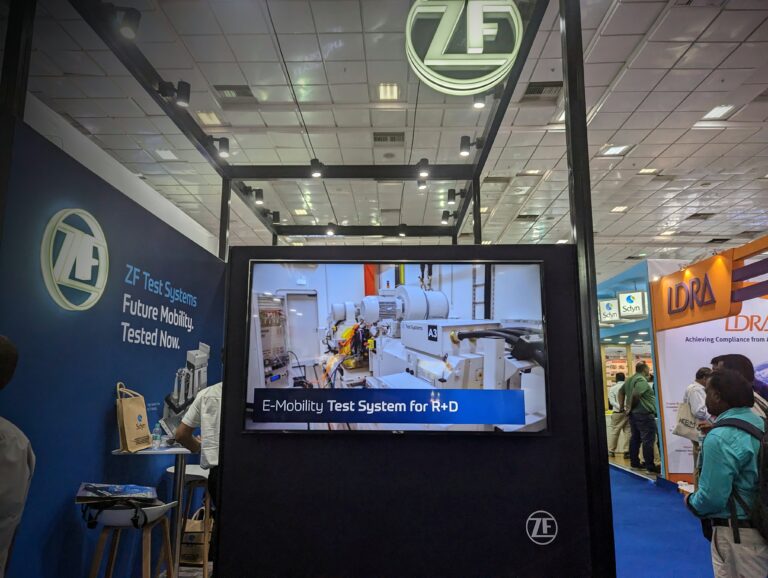 ZF Test Systems was in Chennai to share how it has refined its modular R&D e-mobility test bench set that can test electric drive axles, electric motors and electric axle drives. The core component is a drive module with an oil-cooled synchronous motor. Thomas Trebitsch, vice president of test systems and testing, enthused, "Power up to 750kW, torque up to 1,200Nm, air-conditioning, acoustic cabin and a new adjustment table for an even more precise and simple adjustment – that's the 'new old' e-mobility test bench of ZF."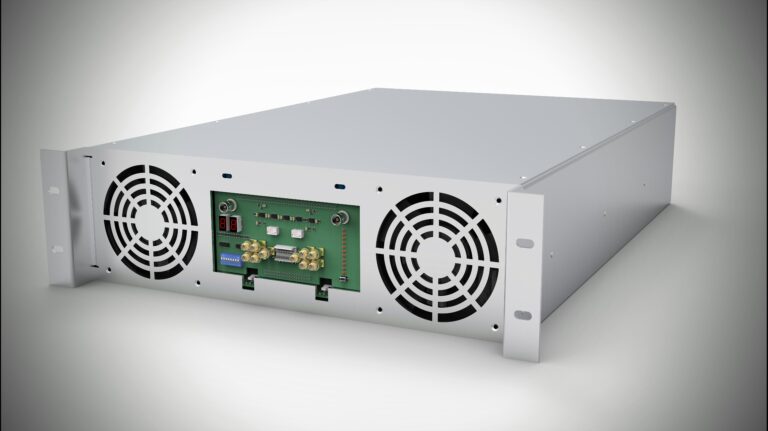 Saraswati Dynamic (Sdyn) highlighted its latest product for vibration testing of batteries and other products, made possible with a new-generation power module with 27kVA power rating. Technical director Arjun Goel said, "Automotive Testing Expo India 2023 has shown that today's market is receptive to new technologies and solutions. For Sdyn, the extraordinary response and customer turnout shows the strength of the Indian automotive testing market."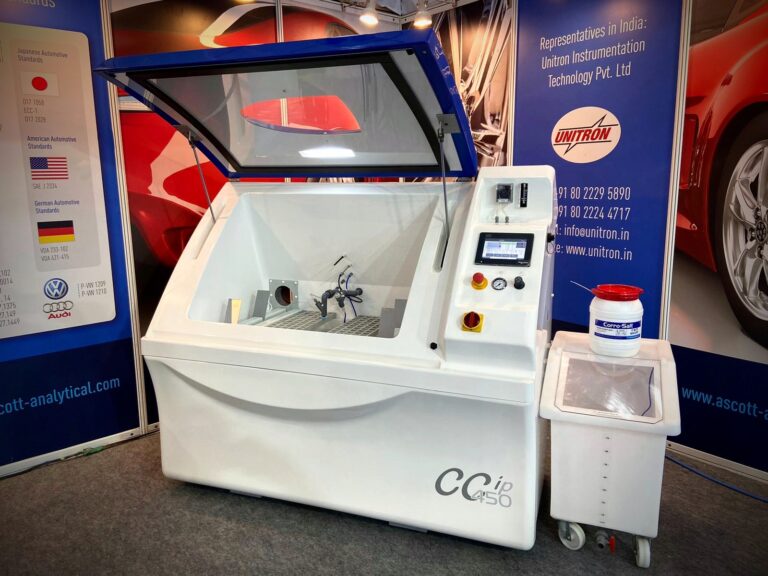 Leading global manufacturer of salt spray and corrosion test chamber Ascott Analytical Equipment demonstrated it latest innovative chamber, the CC450iP, a cyclic corrosion chamber that can create and control multiple corrosive climates with a minimum operating temperature of -40°C and maximum temperature of +80°C.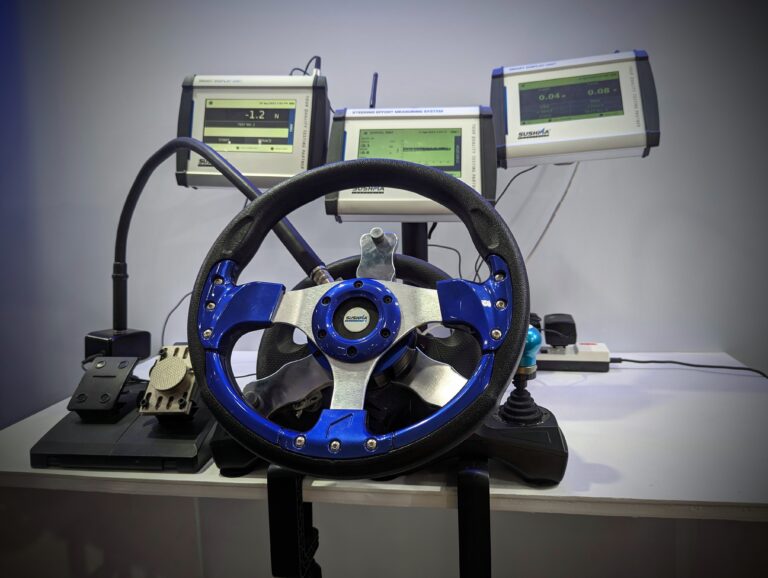 As part of its ambitious growth plans, Sushma Industries is developing wheel force transducers in cooperation with the International Centre for Automotive Technology (ICAT) under the Make in India initiative (Atmanirbhar Bharat), funded by the Indian government's Ministry of Heavy Industries. The project, which it detailed at the expo, is due for completion by the end of 2024. At the show, Sushma also shared its recent strategic agreement to represent S. Himmelstein & Co USA products in India, with a particular focus on EV motor testing. CEO Suveer Sadanand said, "This is the only expo we have consistently participated in since 2011. We love this show since the focus is on the test, measurement and calibration community. It's always great to meet and learn from our customers and connect with new ones."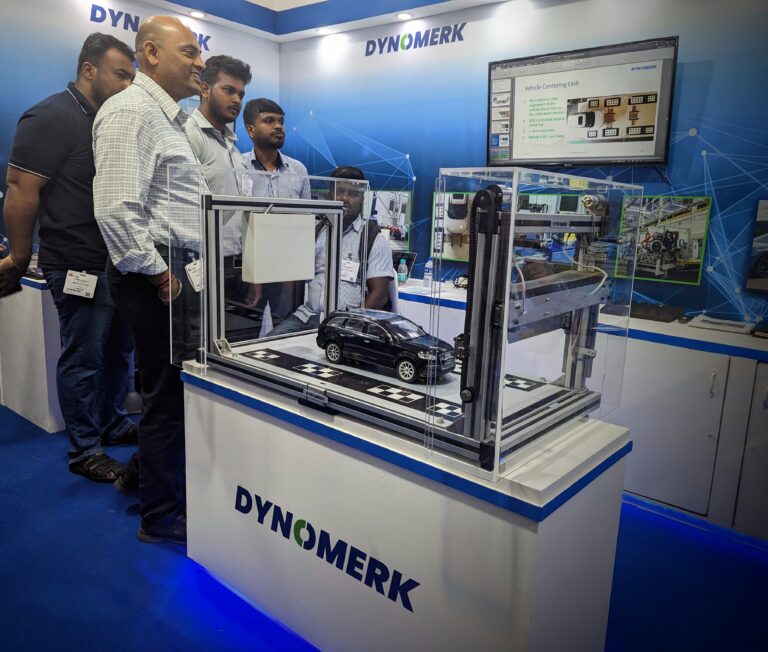 Building on its expertise in end-to-end testing systems for the two- and three-wheel industry, Dynomerk Controls has begun supplying end-of-line ADAS calibration equipment to car manufacturers. A scale model of the system was on display at its booth as well as a simulation of the flashPRO ECU flashing software. Company director Ketaki Raut said, "This is a simple, quick and efficient ECU flashing software where parallel flashing of several ECUs is possible … We are very excited that the expo is back in India and delighted with the response from visitors. We are looking forward to a bigger show in 2025."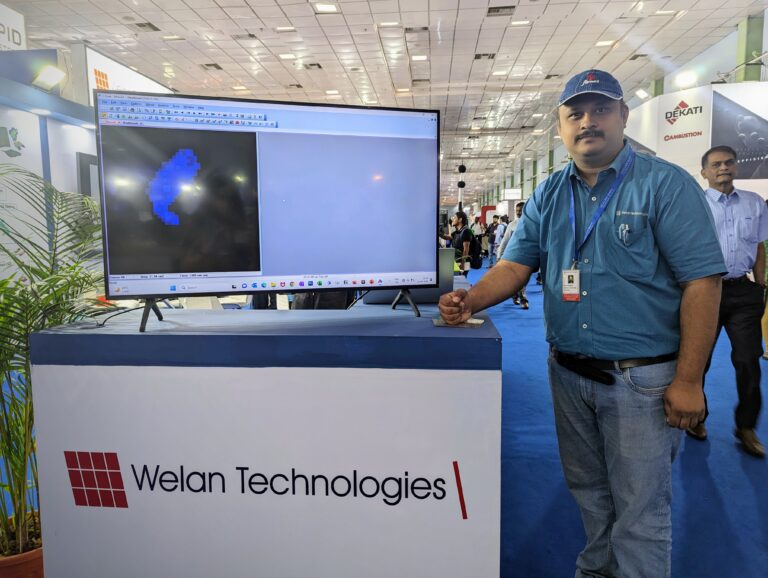 At the Technology Presentation Stage, Welan Technologies team lead Ishan Rahalkar revealed the benefits of Tekscan's pressure sensors for automotive testing and measurement, demonstrating the versatility of pressure mapping systems. Other speakers included Horiba, MaxEye Technologies and Step Engineering.
The ATS Forum covered ADAS, vehicle dynamics and component testing, with contributions from imc Test & Measurement, Atesteo, Capgemini, OxTS, AB Dynamics, and ATS Tech Center, among others.
Automotive Testing Expo India 2023 was a hugely successful show and we are delighted with the feedback. Thank you to all our exhibitors and visitors! The event will return to Chennai in 2025 on April 8, 9 & 10. We look forward to seeing you there.